I think 2021 has been a lot tougher than 2020 was with the COVID situation. I think we could all do with a 6 week vacation to our favourite place and with our favourite people. Here's hoping the situation improves in 2022.
However, the purpose of this blog post is to look back at some of the things in 2021.  I've done one of these blog posts for a few years now and it's always interesting to look back at the older posts and see what I achieved and what my goals were.  There's definitely been an evolution over the years in my thought process, writing and what I perceive as important.
Career
This year saw a big change in terms of my career.  I left Microsoft. Yip in September this year I left my job at Microsoft. It was a bitter sweet moment.  As a kid I always wanted to work for Microsoft but the change to stretch myself and learning new things proved too much.  
I joined Octopus Deploy in October and it's been a massive learning curve but it's one I'm really enjoying.  There is so much scope for me to take my existing skills and use them at Octopus as well as add some new ones and really grow.
The team at Octopus have some great plans for 2022 and I'm looking forward to them being actioned and seeing where they take us.
Travel
Well, thanks to COVID travel at least internationally has been cancelled.  I did get to holiday in two places that I've always wanted to visit here in Scotland though.  And I've even booked to go back to one of them in 2022 so there are positives to be taken if you look around.
Blogging
This year I've written over 170 blogs, either on here on ITOpstalk.com or on other platforms. Which is on par with what I did last year.  I wonder if that's my limit? 😉
But in all seriousness that amount of blogs alongside, videos, talks, and other side projects is a great achievement.  One I'm going to congratulate myself on.
Did you know you could subscribe to my newsletter and not miss a blog post?
Video
Back when I wrote my 2020 review I was sitting below 1000 followers on my YouTube channel, this year I am sitting at 1600 subscribers.  This year saw me do 16 livestreams and 92 videos on my channel. 108 videos!
A lot of effort has went into my YouTube channel this year, there have been some massive successes and also some massive flops.   But each of those have hopefully helped me grow and here's to taking those lessons into next year.
Most visited blog posts in 2021
For the last few years my top ten blog post list at the end of the year has been pretty static.  However this year there is a lot of change in that top ten.  Some older ones are still very popular and it's nice to see things I wrote a few years ago still being useful.
Speaking
Since I started speaking in 2017 I've always been keen to explore new opportunities and give back to new communities.  In 2020 I delivered 39 sessions at 30 different events.
This year I only delivered 16 talks.
It's still an impressive number if I'm not being hard on myself.  I did lose my mojo and enthusiasm a little for delivering talks virtually from my home office.  Speaking to a lot of people I think we are all craving in person events again for that full conference experience.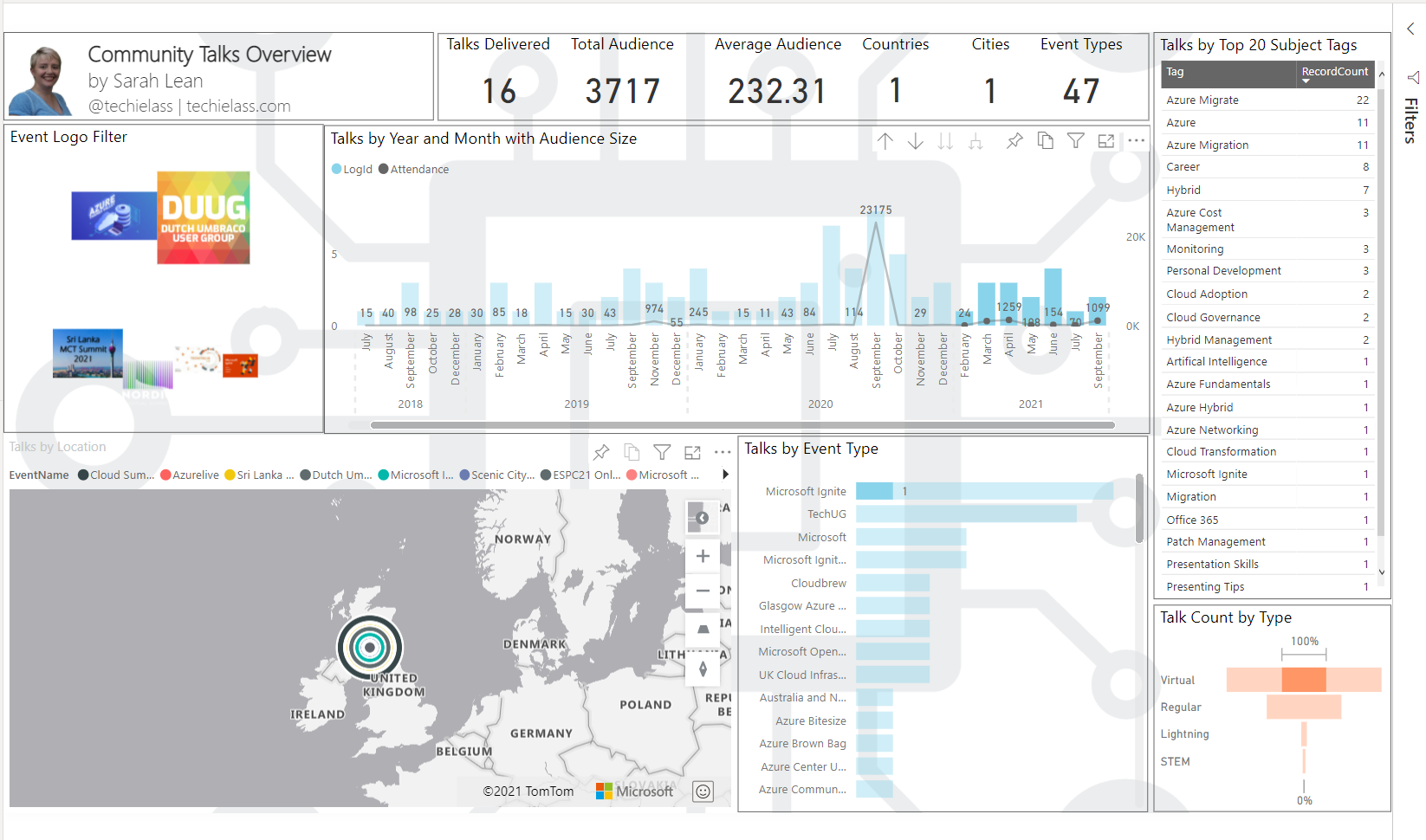 I am committed to speaking again in 2022, and I'm going to try and have a talk at an event, whether it be a user group or conference at least once a month.  I've already got some lined up and you can see those events here.
If you'd like to have me at your event, please do take a look at my Sessionize profile for the talks I have available and reach out to me.
Glasgow Azure User Group
With the pandemic still a massive worry and gatherings in person being a sign of anxiety for a lot of people. We have remained virtual with our events.
With so many conferences, user groups and work meetings going virtual we decided to take a break this year. Which has meant we've only held 4 meetups instead of six.  
That being said I am forever grateful to the sponsors, speakers and community who have continued to support us and still continue to make the group a great one.
Twitter
In October 2018 I hit 1,000 Twitter followers, in August 2019 I hit 2,000 followers and I am on course to hit 7,000 followers in the next month or so. I wish I could thank each and every person that has supported, helped, interacted with me and generally just been an awesome person.
I can still remember the day that I created my Twitter account, thanks to Thomas Sykes and his encouragement.  The journey that started me on has changed my career path and my life in certain ways. Thank you Tom.
The amount of people following isn't something I am focussing on, though I'm focussing on the experience, knowledge sharing and people that I am meeting thanks to the platform.
Here's to 2022!