A review of 2020
This has definately been a strange year for all, everywhere in the world. We've all had to deal with changes in our lives in one way or an other. I've had to pivot how I carry out my job and I've had to look at how my office at home is setup and upgrade parts of it.
Career
I've been very lucky this year that my career and still be able to progress this year with everything that is going on and I know alot of people haven't been afforded that opportunity. I was very proud when I got a promotion to Senior this year. It really encouraged me to keep going and very much boosted my confidence.
Travel
Understandably this year has been a year were travel, hasn't been the focus of my job or my personal life. I did manage to get a few trips in at the start of the year before everything ground to a halt. It's strange looking at these stats compared to last year which saw me travel for 99 days.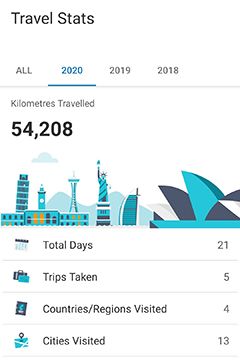 Blogging
I know sometimes Google Analytics stats can be a bit skewed at times but I use them to get some kind of measure on how my blog is going and it's great to look back and see that from 2017 to 2018 my page views doubled, and from 2018 to 2019 they doubled again. So it's awesome to see that my blog is still gaining in popularity. With my new role at Microsoft, you will now start to see me blog over at IT Ops Talk as well.
Last year on this blog I wrote 63 articles, this year it's around about the 135 mark. And 36 on IT Ops Talk. I knew I had blogged more than I did last year, but counting up the stats is just crazy. It probably explains why I've seen an increase in traffic and popularity to my blog, more content equals more visitors. It's been a weird year but I'm taking the positives and focussing on them and what I enjoy.
Video
Back in 2019 I started doing a weekly video update, partially to help folk keep up to date with the Azure news that happens every week. There is so much to keep up with, I thought a short form video might be fun to share, plus I would learn how to speak to a camera, how to be comfortable in front of one and learn how to edit them etc. It's been a wild ride, we reached one year of doing those weekly updates in August, I never imagined doing them for so long. But to be honest, I really enjoy doing them each week, thinking of new ways to share the news and learning new video editing techniques to make the production higher. I've recently just bought a second hand Go Pro to help with adding different views/angles to the videos and see how that goes.
I recently received some stats from YouTube about my video creation this year:
I uploaded 1190 minutes of content
I gained 452 subscribers
Viewers spent 109,426 minutes watching my videos
I want to thank everyone who has supported the channel and helped me. And if you haven't already please head over there and give me a subscribe, one of my targets in 2021 is to hit 1,000 subscribers, only 286 to go. 😉
Most visited blog posts in 2020
Looking back at the top 10 blog posts from 2020, it's been all change on the top 10 list this year, some older articles are still there but alot of new content has overtaken them and been very popular...
Speaking
Speaking at events has been a journey I started in 2017 and I was disappointed when this year's global events meant that I wasn't going to get the chance to travel and speak at the events I wanted to and visit the countries and people I wanted to. However, I pivoted to help support online events and this year I have delivered 39 talks this year to over 30 events, which has seen me speak to over 24,000 people!!
Again I got the chance to speak at Microsoft Ignite which was a very different experience from last year when I spoke in person at the event in Florida. I have to say though, that speaking virtually is just as nerve wracking! lol
I'm not sure what 2021 will bring in terms of events and speaking opportunities but I am looking forward to seeing what it brings and hopefully I'll get back on a physical stage at some point soon when it's safe.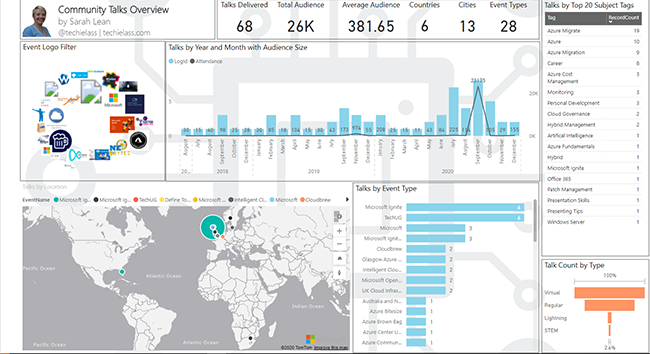 Glasgow Azure User Group
Founded back in 2017, the Glasgow Azure User Group is still going strong. We've had to pivot our events this year to virtual events, but the community has continued to engage and I'm super thankful to everyone who has spoken or attended a meetup.
As we are all missing in person events I had fun along with our sponsors putting together sticker packs that went out to some of our members. It brought joy to me to do that and I hope it brought some joy to those that received the stickers.
Loving seeing all the sticker packs arriving! Thank you to everyone for their support in making this an awesome community! 😀 https://t.co/8Ikq4mYoCz

Sponsored by @Servent_UK, @F5_EMEA, @HaysNews, @nginx, @ShapeSecurity, @inc_group_uk pic.twitter.com/EZdiJQC7ZR

— Glasgow Azure UG (@GlasgowAzureUG) July 21, 2020
If you'd like to attend one of our events in the new year please check out the group's website, would be great to see you there!
Twitter
Thank you to everyone who follows me and interacts with me, I really do appreciate your time and thoughts. I try not to focus too much on the exact number of followers that I have, but instead focus on ensuring that I provide awesome content that you like to engage with. However, saying that I am super grateful to those that follow me and interact act with me and share their thoughts with me and share my content with their networks.
Here's to 2021!