A review of 2019
So here we are again at another end of year, and over the last three years I've done a "Year in Review" blog post and I want to do another for this year. Some pretty neat stuff happened to me this year.
Career
I started off 2018 as a Cloud Solution Architect at Microsoft, however in September I made the switch to another team in Microsoft.
Hey There!
I wanted to send a big ShoutOut to the latest member of the Core Infra Operations team of Cloud Advocates. I am so happy to say that @TechieLass has her first MS teams call with the team later today. #AzOps pic.twitter.com/P8mihNsTMX

— Rick Claus - PNW (@RicksterCDN) September 30, 2019
I joined Rick Claus's team as a Cloud Advocate, with my focus being on the IT Pro audience. I still can't believe I am part of such an awesome team, I've really enjoyed the last three months or so getting to know the team and working with them. We are a truly global team spanning six different time zones, so scheduling team meetings can be a challenge but when we do manage to catch up it's great fun. I'm looking forward to seeing what we all achieve in 2020!
Travel
This year my travel increased quite a bit from last year. I still use TripIt to track my track plans and share with family. My Mum has event started to use it as well, which although is another platform to be aware of, it's a great way of helping to know where we are as a family. So my travel stats, this year do include some family holidays as well as business travel.
When I checked the stats for this year, I was surprised to see that I had visited eight different countries but then when I thought about it it has recorded eight as sometimes on my travels I had to go via a central airport (such as Schipol) to get to my destination so that's why I have so many countries. If we take away though airport stops it's really only six!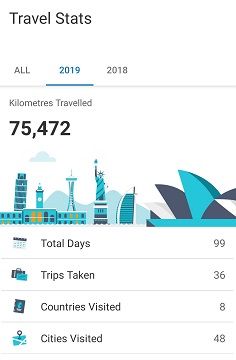 Blogging
I know sometimes Google Analtyics stats can be a bit skewed at times but I use them to get some kind of measure on how my blog is going and it's great to look back and see that from 2017 to 2018 my page views doubled, and from 2018 to 2019 they doubled again. So it's awesome to see that my blog is still gaining in popularity. With my new role at Microsoft, you will now start to see me blog over at IT Ops Talk as well.
Last year on this blog I wrote 47 articles, this year it's around about the 63 mark. Which is crazy biscuits to be honest, if you'd asked me how many I had wrote I would have said about 50, if that.
Most visited blog posts in 2019
Looking back at the top 10 blog posts from 2019, a lot of older articles are still surprisingly popular...
Speaking
Last year I spoke at 7 different events, this year I spoke at 18 different events, delivered 20 different talks, in 10 cities, 5 countries and to over 1500 people! I spoke at some kind of event 11 months this year, August was the only month I never did a public speaking event! lol
One notable achievement in amongst all of that was presenting at Microsoft Ignite in Orlando! It was my first time attending the event and my first time speaking at it. I delivered a presentation in the second largest room at the conference and to an audience of over 900 people, which is just crazy and amazing at the same time. Next year I am going on tour with the Microsoft Ignite the Tour event and will get the chance to speak in at least four different countries, which I'm really looking forward to.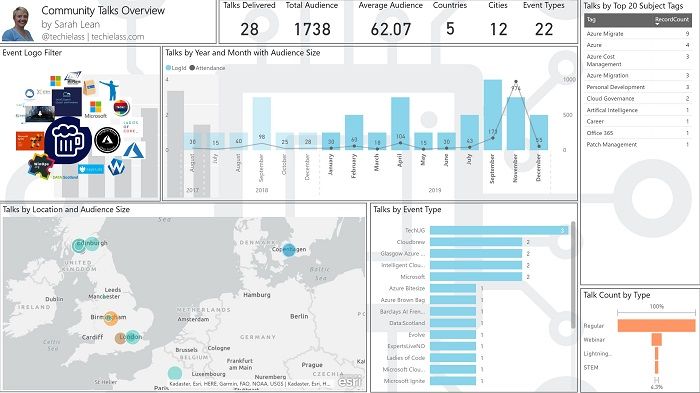 Glasgow Azure User Group
Founded back in 2017, the Glasgow Azure User Group is still going strong. We held our 16th meetup this month and are already planning our 2020 meetup ideas and dates. It's been a real privilege to be involved in such a vibrant and engaged community here in Glasgow and Scotland. A massive thank you to all our speakers, attendees and supporters who have helped to make the group what it currently is. Without that amazing continued support we wouldn't be where we are today!
If you'd like to come up to Glasgow and speak please do reach out via our speaker form.
If you'd like to attend one of our events in the new year please check out the group's website, would be great to see you there!
Twitter
In October 2018 I hit 1,000 Twitter followers, in August 2019 I hit 2,000 followers and I'm sitting at over 2,600 followers today. Thank you to everyone who follows me and interacts with me, I really do appreciate your time and thoughts. I try not to focus too much on the exact number of followers that I have, but instead focus on ensuring that I provide awesome content that you like to engage with.
Here's to 2020!