What's in my bag as a speaker?
Public speaking is something I have been doing now since 2017.  I've been very fortunate to have spoken at some fantastic events and travelled to some amazing locations.
Over the last few years, I've delivered a ton of presentations from my home office setup.
But lately, I've been back in person and that's meant ensuring I have all the correct equipment with me when I travel to these events.
I want to share with you what I pack in my bag and why.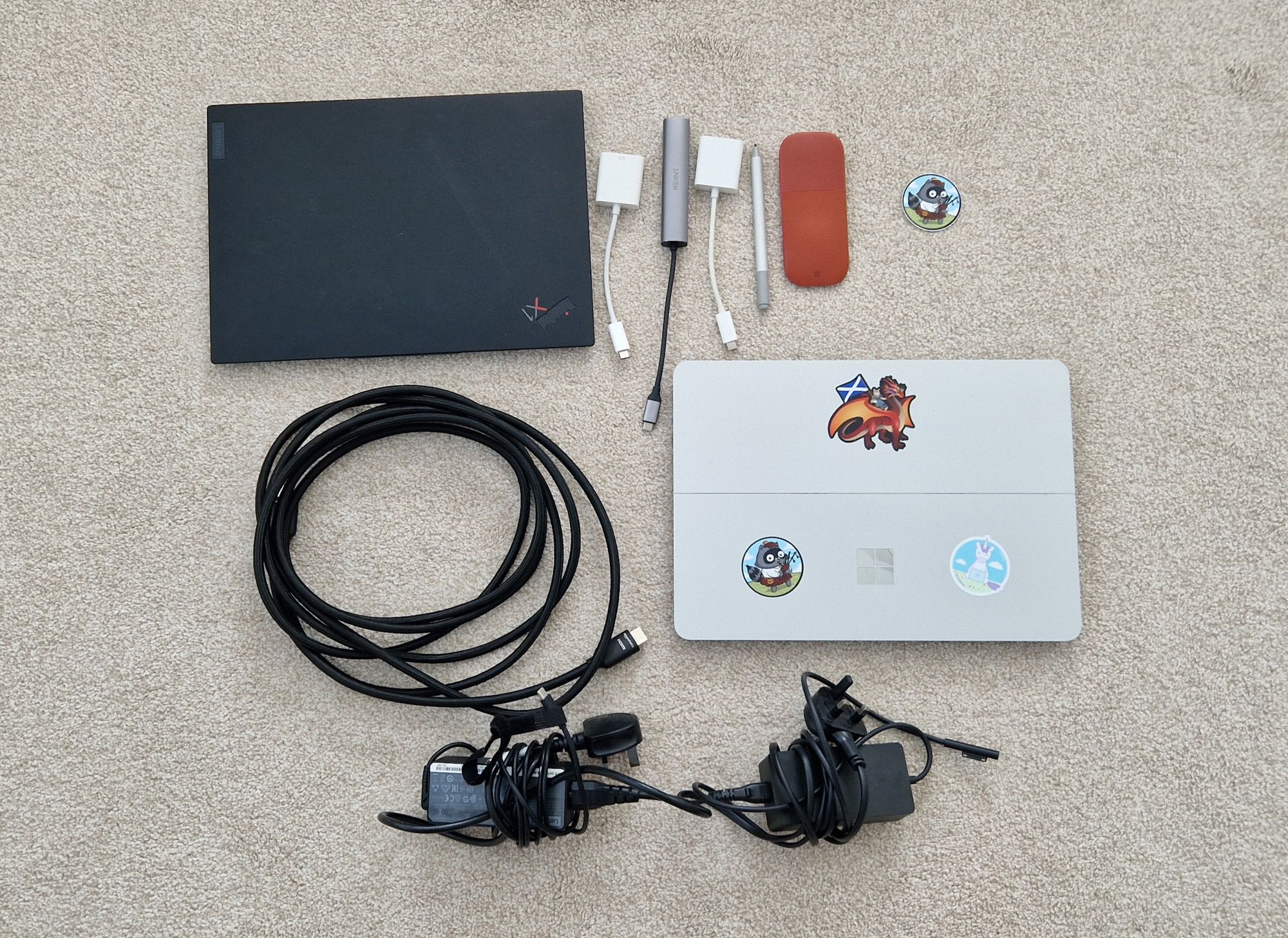 Laptops
For work I have a Surface Studio Laptop and my personal laptop is a Lenovo ThinkPad X1 Gen 10.
If I am not travelling too far then I tend to take both laptops with me.
The Surface laptop requires an adapter to plug into a TV or projector, but my ThinkPad has an HDMI port so it can often be plugged in directly.
Both devices are great for presentations.
Cables
I usually travel with a HDMI to HDMI cable.  
90% of venues that have been to use HDMI to connect either to a TV screen in the venue or to a projector.
Bringing my own means I have flexibility if the venue's one is missing or isn't working.  Or even if it's just not long enough for where I'd like to be, stand during the presentation.
Bringing along the right power cable for the laptop or laptops I am using is important as well.
Connectors
The connector that I like is the Anker Hub 5-in-1 adapter.  It has a USB C Adapter with 4K USB C to HDMI, Ethernet Port, 3 USB 3.0 Ports.  So it's great for when I am working remotely and I can plug in a ton of devices.
It also is good for connecting my Surface Studio Laptop to an HDMI connection.
I also carry a single USB C to HDMI adapter.  And a single USB C to VGA adapter.
I carry the single adapters because there have been some TVs/projectors that don't like my 5-in-1 adapter.  Not sure if it's been the cable or the device in those venues but having that single adapter has saved me.  
Presentation clicker
When I am presenting using my Surface laptop I use my Surface Pen, as my "clicker" to help me move my slides forward or backwards.  It works great.   I haven't had to buy anything else to use.
When I present from my ThinkPad I either pair my Surface Pen to that device or just use my keyboard to move the slides forward and back.
Stickers
I always try and have a selection of stickers in my bag to give away to the audience.  It's a great icebreaker before or after sessions and can lead to other conversations with the attendees on a one to one basis.
💡
What do you have in your bag as a speaker? Is there anything I am missing?