Streaming
In this blog post I talk you through the streaming setup that I have for recording and doing live videos on YouTube.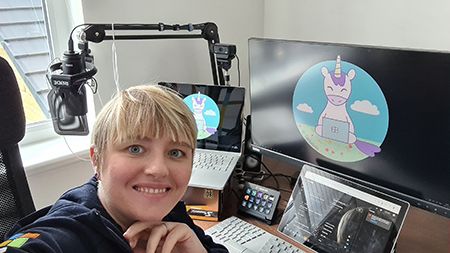 With in person events no longer being a thing and a lot of people have turned to creating content in video form, or streaming sessions, interviews etc. And I'm no different, I've been working on building up video content on my YouTube channel. I've tried streaming a few of my Weekly Update videos, with mixed success! 😉
I've tried various different methods of streaming, with a bit of mixed success, and I wanted to share some of my experiences.
Open Broadcaster Software
When I started looking at streaming everyone was talking about using Open Broadcaster Software or OBS and I set it up on my Surface Book 2, but had a few issues as I mentioned in this blog. I'm kind of torn about what I think regarding OBS. It's not the easiest piece of software to get configured and there are lots of addons and plugins that you can utilise, so there's lots of flexibility. I know a lot of streamers love the software and it's flexibility but I've found it quite the resource hog and I've only ever used it stream my own video and audio, I've not done anything complicated and added in a second guest via a Teams or Skype call, which I suspect would need a lot more hardware in order to support it.
One of the things I like about OBS is that you can stream and record it locally, meaning you have the video and audio stored if the streaming platform you use doesn't store the video after the stream has finished. You can also use OBS to record locally without streaming.
StreamYard
StreamYard is a browser based piece of software that can help facilite your streaming needs. Create an account, log in via the browser, link in your YouTube, Twitch, Periscope, accounts etc and then start streaming. It's fairly straight forward, it doesn't seem to be hardware intensive. You can invite guests in and have them share their screens etc. There is no burden on the host's hardware making it a much smoother process and their interface is really easy to switch between screens and guests being spotlighted. It also shows you the live chat from your streaming platforms in their browser interface, so you don't have to have those open in other windows to see what is happening and interact with your audience.
There is a free tier available to use, it does have some limitations and using the free tier you have the StreamYard branding overlaid on your stream window, but there are paid tiers that allow you to remove that and add your own. As an occasional streamer I've not found the need to upgrade.
I maybe wrong but I haven't found a way of streaming and recording at the same time on StreamYard but it might be a premium feature that I don't have access to yet.
Restream
I've not actually used Restream on a live stream yet but it is very similar to what StreamYard offers, in that it's browser based and takes the hardware burden away from your own machine.
When I signed up and started to use the software I actually found it a little too complex, I prefer the simplicity of StreamYard but I will try Restream at one point and give it a go. I've also not found a way of streaming and recording within Restream at the same time.
Overview
If you have any questions or have thoughts on streaming software please let me know, I'd love to hear what others are doing and how I can improve my live streaming! 😊