Mount your Surface device with a Vertical Dock!
Join me as I look at the Vertical Dock product for your Surface device.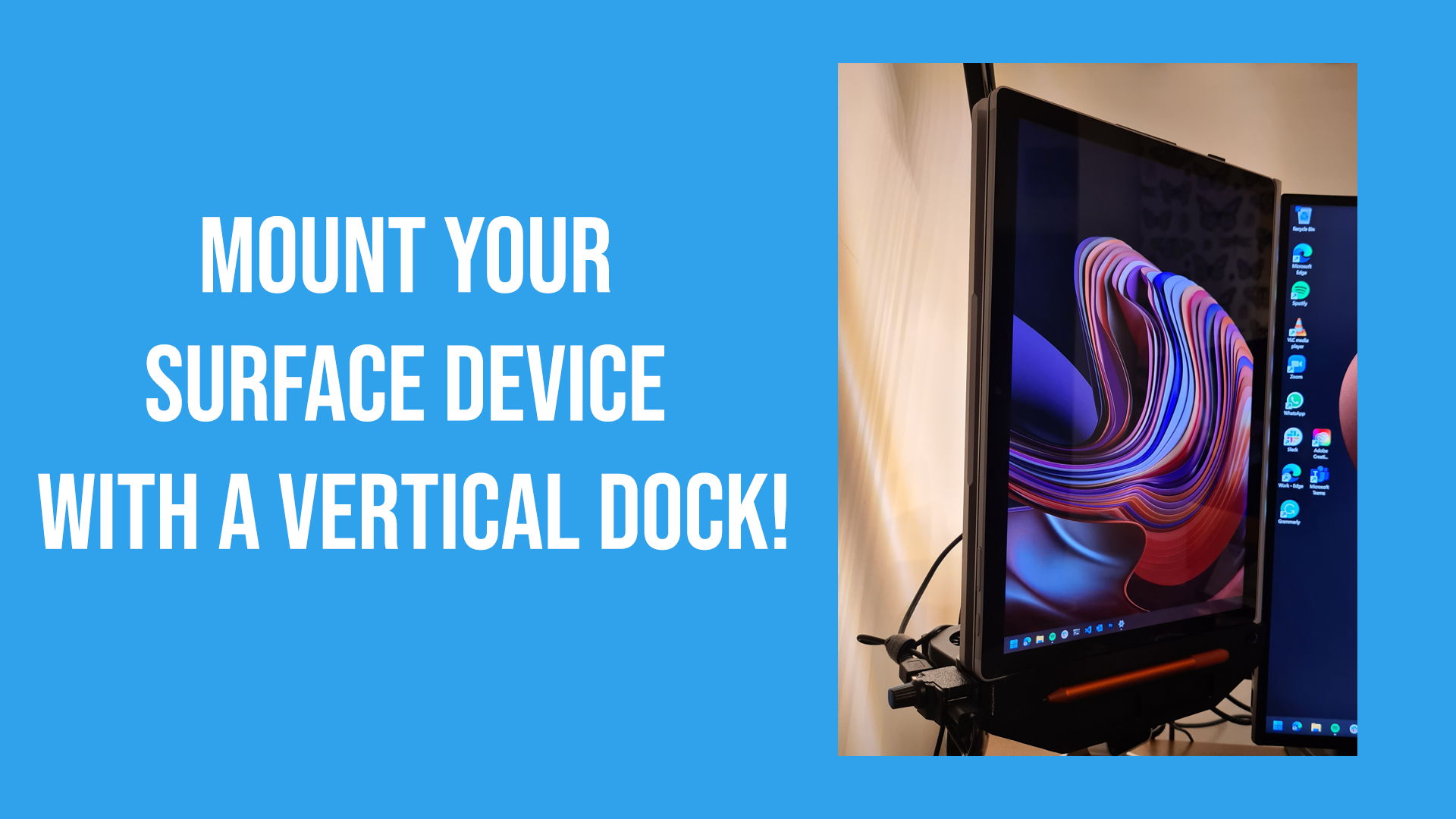 I was gifted this item in return for a review, however the company have not seen my review or influenced my thoughts.
With my recent role change, it was time for some new equipment and desk change up.  
One change I wanted to make was mounting my laptop off the desk to give me more room on the actual desk, and make the screen from the laptop more ergonomic for viewing.
This gave me the chance to reach out to the Vertical Docks team as I had been a follower of theirs for a while.
Problem
So with my last setup I had my laptop (a Surface Book 2) on my desk, which took up a lot of space on the desk itself and wasn't great for viewing the screen as it was very low down and hurt to use too much.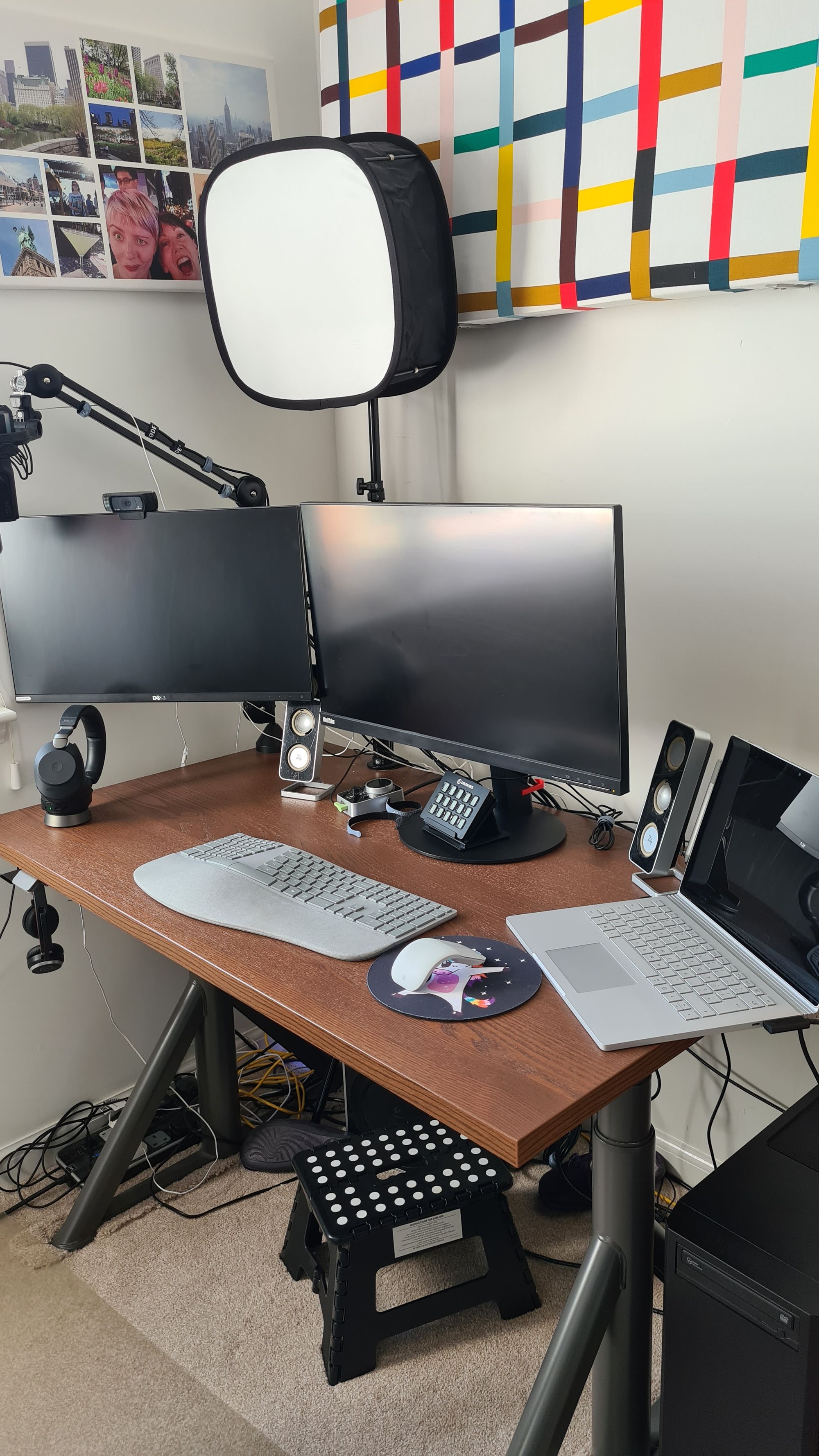 Solution
The solution was to look at the Vertical Dock which could be attached to a monitor arm and hold my laptop and Surface Dock in a neat solution.  Allowing for the laptop to be off the desk and at a great height for ergonomic purposes.
What that means for the whole desk set up is this: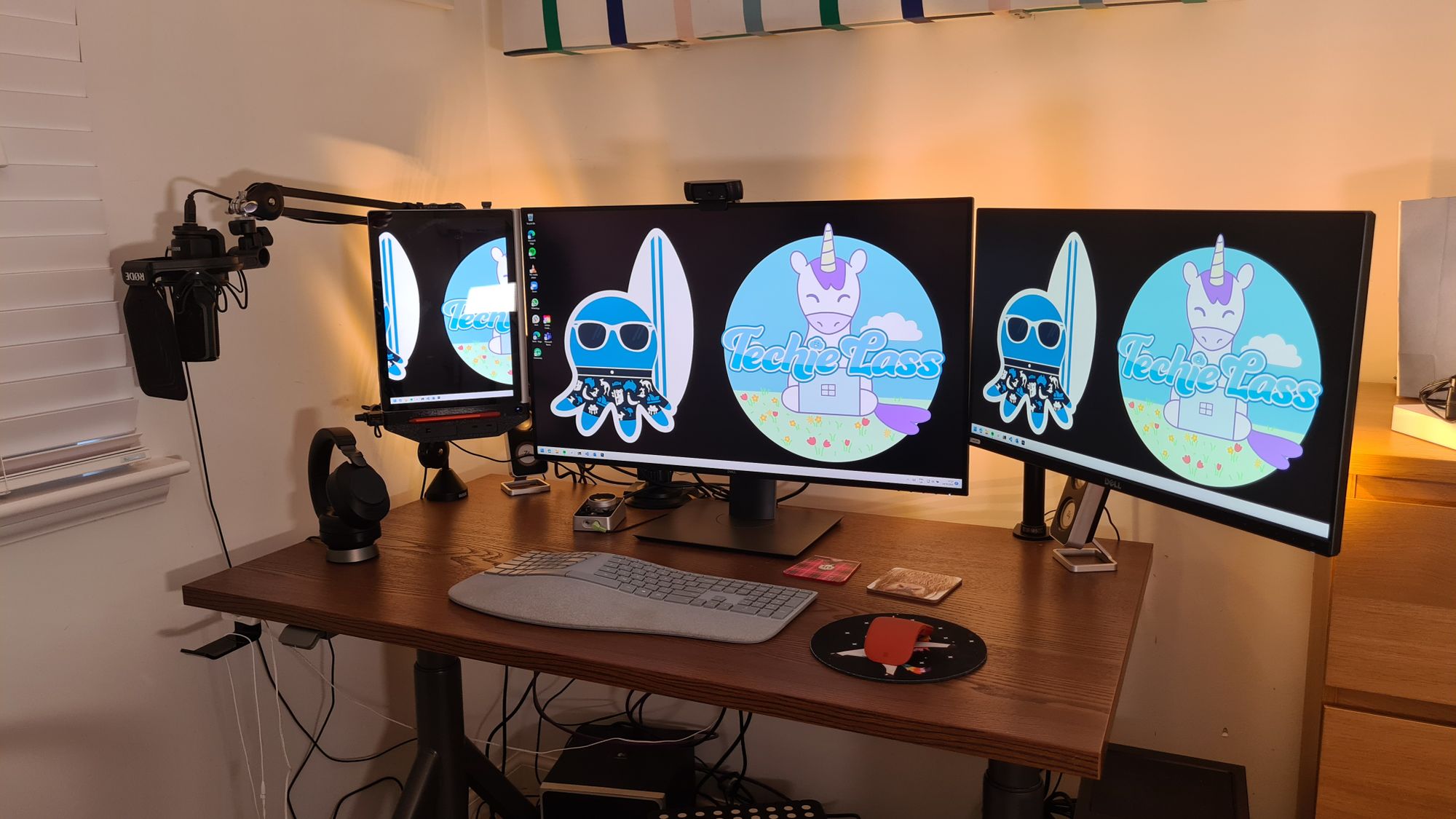 You can see with the Surface Book and Dock mounted it give me a much more ergonomic position to work and also clears space from my desk.
It's such a clever design that not only is available for the Surface Book, but also the Surface Pro and Surface Go.
Positives
What I love about the Vertical Dock is that's it's clearly been designed by someone that knows about setting up a desk for working and also someone that knows how the Surface Book is used.
They've thought out the problem and scenarios this could be used in and it works, it's a "battle tested solution".
It also has nice touches like the fact there are magnetics that can be used to secure my Surface Pen, so it doesn't get lost and easily assessible.
There is also a fan that you can turn off and on and control the speed of.  This helps to keep the device cool, but just having enough cool air flowing from the bottom.  That's a nice touch.
It was also super easy to put together. The instructions were straight forward with great pictures and it was put together in no time at all.
I have my device mounted in a vertical position but you can have it in a horizontal position if you would like.  My monitor arm has the flexibility that I can twist it around so I could twist the dock and device to a horizontal position if I wanted.  I also have the flexibility with the arm to pull it out a bit closer to me if I wanted to use the touch screen or draw etc.  So that's an important factor to think about when choosing an arm.
Negatives
The only negative that I have found is the fan control position.  The default design had the control unit either hanging or at the back of the unit.  I found that a bit fiddly.  So what I have done is get a bit of double sided sticky tape and taped it to the side of the unit. Meaning it's there for me easily.
Although that is listed in my negatives I totally understand why it's not really designed in a place as some folk might not want to see that or even use it.
Would I recommend?
Yes, 100%.  It's just completely changed how my desk is setup and how much more comfortable my working position is.  I can totally take advantage of the 3rd screen that is part of the Surface Book without losing any functionality.  
Purchase my setup
If you'd like to buy any of the items I'm using you can head over to my Amazon Storefront. Where you'll find a list of the items.  If you purchase via this link it is an affiliate link, so I'll receive a small fee but it won't affect how much you pay for the item.