Jabra Evolve2 Buds Review
The Jabra Evolve2 Buds are the latest edition in Jabra's truly wireless headset range. Like most of Jabra's range they are aimed at the professional market, being certified for use with Microsoft Teams, Zoom and Google Meet.
They are designed with the hybrid working environment most of us find ourselves in. Often based in the same location office wise, but with some travel involved.  My go-to headset since early 2022 has been the Jabra Evolve2 75.  But now I am commuting to different offices, they are a bit cumbersome to throw in my backpack.
The Jabra Evolve2 Buds offer great quality when connecting either to my laptop or mobile phone and can easily fit inside my jacket pocket.  When I jump on the train I can connect to my phone with the buds, listen to music or a podcast and then when I get into the office they seamlessly connect to my laptop.  Either using Bluetooth or the dedicated dongle that is connected to my laptop.
What's in the box
In the box you get the earbuds, the carry/charging case, a small charging cable and different sized tips for the earbuds depending on your ear shape or size.
The carry case can hold the earbuds and the dongle for your laptop as well.  It's not just a carry case though. It also acts as a charging case.  
The case itself will hold a charge, meaning you don't always have to be near a plug to charge your buds.  They will charge from the case.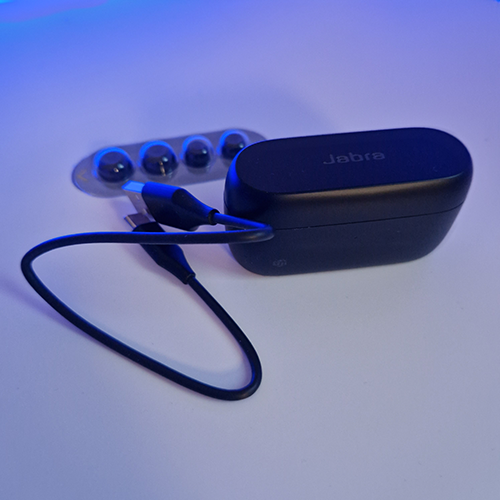 Features
The Jabra Evolve2 buds come in a couple of configurations.  You can pick your dongle preference, you can either have USB-A or USB-C.  Handy in this model world where things seem to be changing towards USB-C only.
You also have the option to optimise for either Microsoft Teams connectivity or Unified Communications depending on what platform you use most.
Jabra advertises that the earbuds have a battery life of 8 hours and the charging case has a battery life of 33 hours.  I've been fortunate enough not to have had an 8 hour long meeting, so haven't fully tested that claim out.
I've found I only need to plug the charging case into the power socket once a week to make sure I never run low on battery.  And charging is quick, even a 5 minute charge can give you a significant boost.
The earbuds have an IP57 rating.  Which means they are highly resistant to dust.  And you can submerge them in water at a depth of up to a metre for 30 minutes without issue.  Just remember to dry them off before putting them back in your case!  This makes the earbuds quite a versatile option for the hybrid worker.
While using the buds you can use push-button capability to interact with what you are using/listening to.  By default, the left earbud can do the following for you:
A single press handles playback.
A double press skips forward.
A triple press goes to the previous track.
A three second hold will activate your device's voice assistant.
With the right earbud you can do the following:
A single press answers incoming calls, or mutes your microphone, or opens Microsoft teams, depending on the context you are in.
A double press ends or rejects a call.  It can also toggle between noise cancellation mode or transparency mode.
You can use the Jabra app to modify these button presses to match how you want them to behave.
Comfort
Everyone's head and ears are different.  A headset or earbuds that might suit one person might not always suit another but I've found this really comfortable.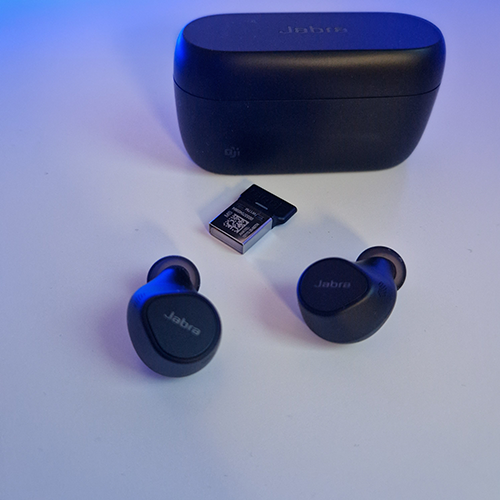 They've sat in my ear while sitting at my desk easily and don't feel uncomfortable.  I've worn them out on walks or commuting and they've stayed in my ear quite easily and not caused any hassle.
As I said earlier, in the box you get different tips for the earbuds which will hopefully make them adapt to your ears and give you that comfortable fit.
Noise Cancellation
I've seen reviews of people saying that noise cancellation is poor on the earbuds and there are better wireless headsets available.  For me noise cancellation hasn't been an issue.
When I had decorators in the house they had the radio on and were moving about. I couldn't hear them through my headset and the people at my meetings didn't pick up their noise either.  
I've also used them for commuting and they've suited my needs for noise cancellation. I've quite easily been able to concentrate on the podcast I've been listening to.
Hybrid Worker Compatible
For me the Jabra Evolve2 buds are a great choice for the hybrid worker.  They hit the high level of quality we've all come to know and love from the Jabra brand.  They are great when sitting at your desk working but also when you are travelling they are lightweight, compact and great for listening to music or working on the go.
Purchase Information
You can purchase the Teams Certified USB-A version of the buds from Amazon UK for £232.36.
The Teams Certified USB-C version of the buds are £233.00 from Amazon UK.

💡
Disclaimer: I was given these earbuds to review, but I was free to express my opinion.