Jabra Engage 55 Review
Getting hands on with the Jabra Evolve 55 headset. Let's take a look at the features, pros, cons and how it fares with everyday usage.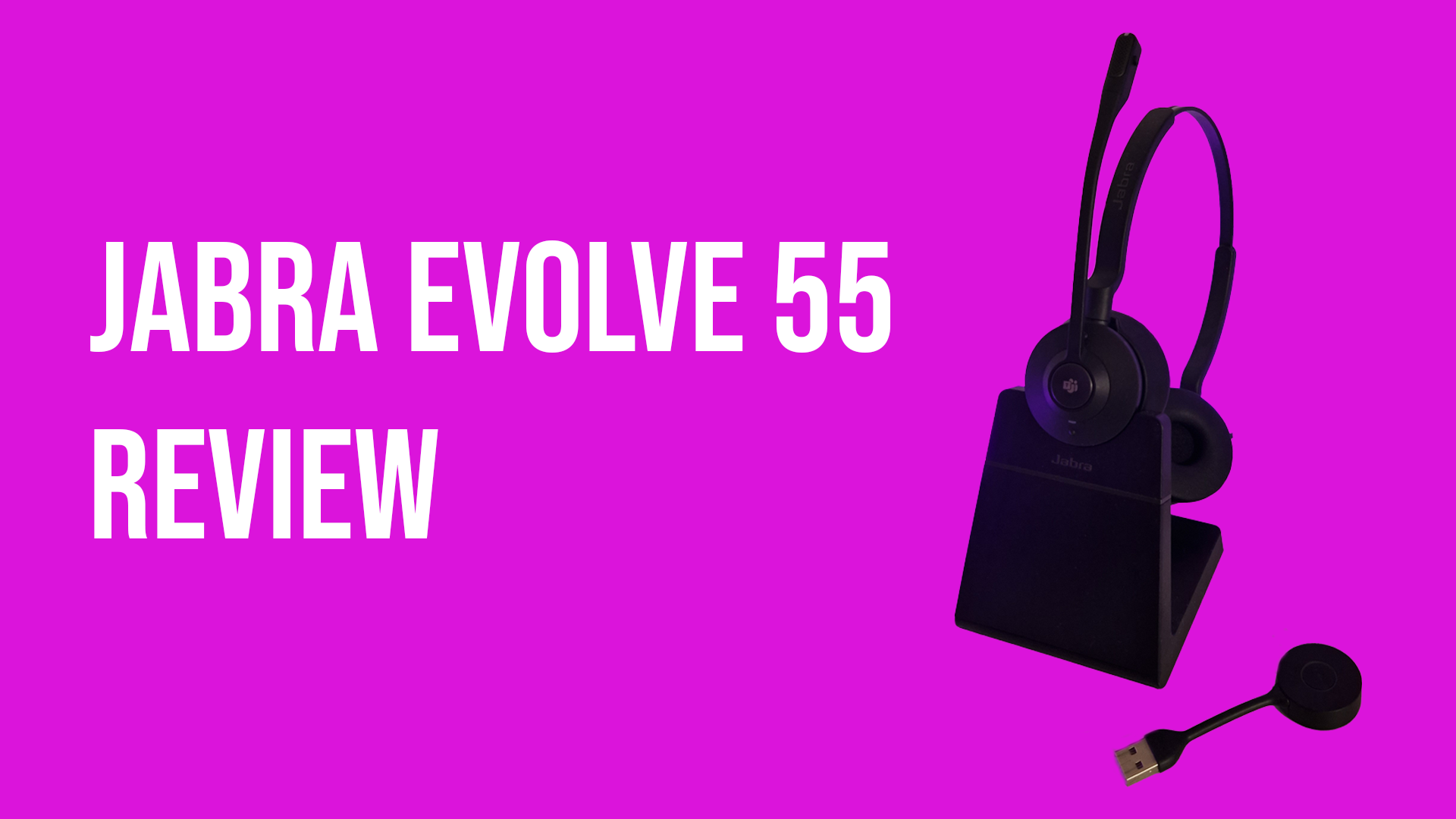 The Jabra Engage 55 headset is one of Jabra's dedicated office headsets.  With a wireless range of 150m and the DECT security certified wireless adapter to prevent eavesdropping this headset packs a punch.
Headset Configuration Options
There are a couple of configuration options you can buy of this headset. The model I have is the Jabra Engage 55 Stereo USB-A model with a charging stand.
But there are mono editions available, where you only have one earmuff.  And there is a more portable mono edition available.
The charging stand is also option.  I have had the charging stand on my desk with the headset for a while now and it's a nice edition to my desk and it means I know where my headset is!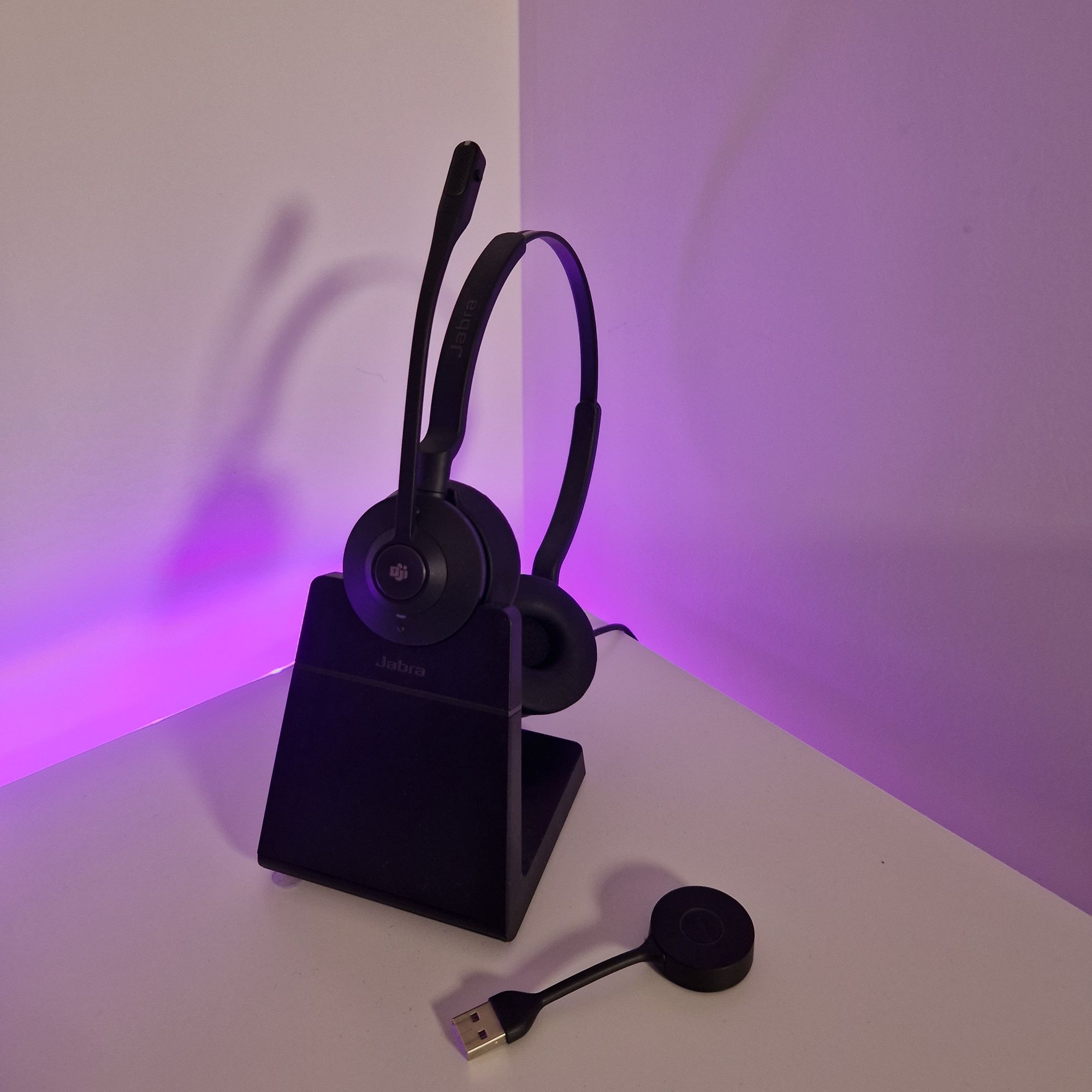 Comfort
The Engage 55 headset is an on-ear headset.  Meaning the earmuffs sit on your ear.  And I've realised over trial and error of several headsets that this kind isn't my favourite.  I much prefer an over ear headset such as the Jabra Evolve2 85.
But this is entirely a personal preference and I know others that have said they really enjoy the Engage 55 and use it as their daily driver.
One thing I did notice was raising and lowering the microphone between calls, the microphone did catch the edge of my glasses sometimes.  Which isn't ideal.
Sound Quality
I've always found Jabra headsets to be of quality and none have let me down in the sound department.
Headsets for me aren't just about taking and receiving calls, I use them for all listening to music, dictation, etc and I've not had any issues.  

Please can hear me, I can hear them on calls.  I can dictate quite happily within a Word doc, or a Google doc and the software hears me, whether it understands my accent is another topic entirely.
The other day someone remarked how good the sound quality of the Engage 55 was with music!
My go to headset is the Jabra Evolve2 85 🤣🤣

Though I am *floored* by how well the Jabra Engage 55 handles music!

— Phil Howard (@Gadgetoid) November 21, 2022
This headset is a powerful one.  It certain doesn't disappoint within the sound quality arena.
Battery Life
I've never been scientific with my battery life tests.  I use the headsets as they are intended for, everyday use and gauge how they perform.
For me a good headset battery life is not having to charge it every day. If I am constantly having to ensure it is on charge, then it's not really fit for purpose.  But again, this is a personal preference.  
I actually found myself replacing my headset on the charging stand whenever I had a long break between calls.  So, I never got to the stage where the battery was low. Which isn't great from a review point of view.
Official documentation comments that you should get 13 hours of charge out of the headset, so that should be plenty for a day of calls.
The thing to note with this headset is it uses a USB micro port to charge.  The charging stand has that type of connecter for the headset to sit on.  While the charging stand itself uses a USB A connection for it's power.
The USB micro port isn't great for when I am travelling or away from my desk, I only tend to have a USB C cable in my bag these days as most devices I have are that.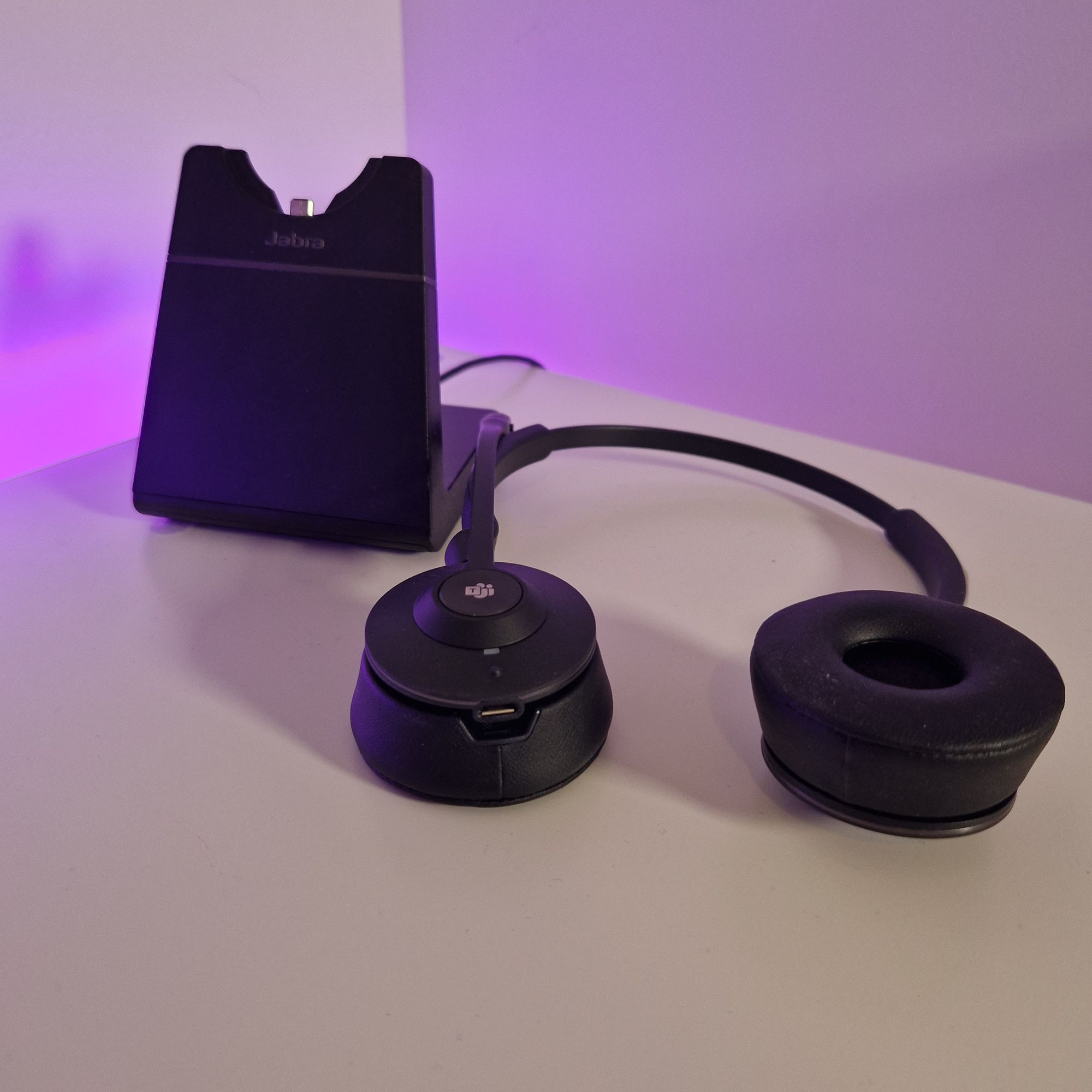 Overall
This is a solid headset that will be a great daily driver for those looking for a light weight, powerful on the ear headset.  It's definitely a great addition to the Jabra range.
It's always comforting to see that every Jabra headset I've ever had could potentially be a great device for someone, from comfort, noise cancellation or sound quality.
Whatever Jabra headset you choose, you won't be disappointed.