Jabra Evolve2 85 Headset Review
Review of the Jabra Evolve2 85 headset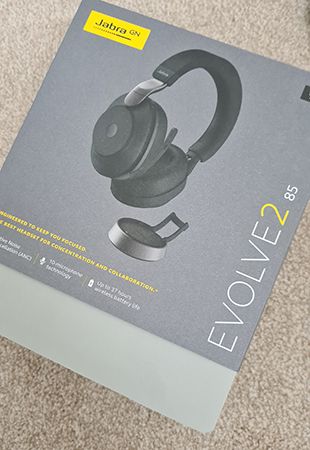 I'm a long term fan of the Jabra headset range, and was given the Jabra Evolve2 85 by the Jabra team to review and I can say I've had a ball trying it out. So let's get into the review of the headset. 😊
What is the headset?
The Jabra Evolve2 85 is a headset designed for those that need a good a good headphone and microphone while working either at home or in the office for all the virtual meetings that are now part of our daily routine. The headset is said to be designed to give the user a good quiet space to head their meeting attendees regardless of how busy the area they are sitting in is and also give the meeting attendees a good experience as well by cancelling out any background noise and only letting the voice of the person using the headset coming through.
The headset is available in biege and black and comes in a different combination of options, with USB-A or USB-C connectivity, with or without a charging stand and also optimised specifically Microsoft Teams or Unified Communication tools in general. My headset is the Unified Communication with USB-A connectivity and it came with a charging stand.
What's in the box
Inside the box you get the headset, 3.5mm jack cable for using the headset with a wired connection, 3.5mm Airplane Flight Headphone Plug Jack Converter, the USB connection dongle, a charging cable and to keep all this safe when travelling there is a carry case, which isn't quite a hard case but gives great protection if storing the headset inside your backpack etc. I also had the charging stand within my box, but there is an option to buy this headset without the charging stand. I filmed an unboxing video which can be found here, if you'd like to see what that looks like.
Setup
Setup on my laptop was pretty easy, I plugged in the dongle that was provided and everything started to kick in the headset gave me a little message saying it was connected and I could select it within Microsoft Teams or within my laptop volume controls as an output device. I have Jabra Direct installed on my laptop to help me customise settings and also apply updates to the headsets. Inside Jabra Direct I can configure some settings for this headset, I can configure it so the headset answers an incoming call when I rotate the boom arm, whether I get a reminder if I speak but am still on mute or not and when the device should power off if it goes idle.
Comfort
This is an over the ear headset and it isn't a heavy headset at all, I have had days where have I have had meetings all day and wore the headset for the full day and not noticed any issue in terms of comfort. They are easy to wear and don't get heavy after a long time of wearing them. I've even had earrings on while wearing them and it hasn't hurt or dug in. There is a lot of padding both on the headset band and ear cups, so I am not surprised they are comfortable to wear.
Sound Quality
So when I talk about sound quality in terms of this headset I am referring to music playback, cause let's face it, we all like a bit of music now and again. And I love to have music playing in the background when I am working on a blog or documentation, so having a headset that can give me a good quality sound is important. I have to admit I was massively disappointed the first time I plugged these in and tried music. The sound just didn't feel right, it felt empty. Then I discovered that within Jabra Direct there was a Music Equalizer for the headset and I could configure and personalise how I wanted to hear Bass, Mid-Range and Treble sounds. Which has made all the difference to how the headset performs in terms of music playback.
Call Quality
I'll be honest, I've been blown away with the call quality and noise cancellation from this headset. The sound quality has been ace, I've been able to hear my colleagues clearly and they've been able to hear me clearly. The headset has 10 microphones built into it, which is designed to pick up the dominant sound (i.e your voice) and not all the background noise, which as been phenomenal. With all my other headsets when I've been in a meeting and one of my neighbours has been cutting their grass or if a noisy lorry has been outside my fellow meeting attendees have always been able to hear it, but when I use the Jabra Evolve2 85 none of that is picked up.
I've had one or two issues with the headsets and calls when my mobile phone is close by. I notice when I am actively using my mobile phone and in a meeting (ssh, we all do it 😉) I get a fuzzy static noise inside my headset. Only I can hear it, no one else can.
Noise Cancellation
And the noise cancellation is just as good for me, I can't hear any noise in my background through the headset. Now the headset does have active noise cancellation that you can turn off if you do want to hear your surrounds while having the headset on. So that's customisable depending on your situation and need.
Battery
I am totally in love with have the charging stand with this headset, it sits on my desk, plugged into my docking station and I just put my headset on it after a call or at the end of the day to charge. I don't have to go routing round for the right cable or finding a spare USB port to plug into, it's setup and read to go whenever I need it. And it helps to keep my headset in a place that's easy to grab if I call comes through. The battery life has been very impressive on this headset, I am forever leaving headsets turned on and coming back to them the next day to find dead batteries but as this headset has the sleep mode built in and I have configured that it's helped save the battery and make it last much longer. I can pretty much go a full week without having to charge this headset, which is great. I've even left it sitting for over a week while I took some time off and came back to a "medium" charge left in it so it didn't drain from sitting doing nothing for the week either.
The real test of any battery will be how it performs as the device gets older though. 😉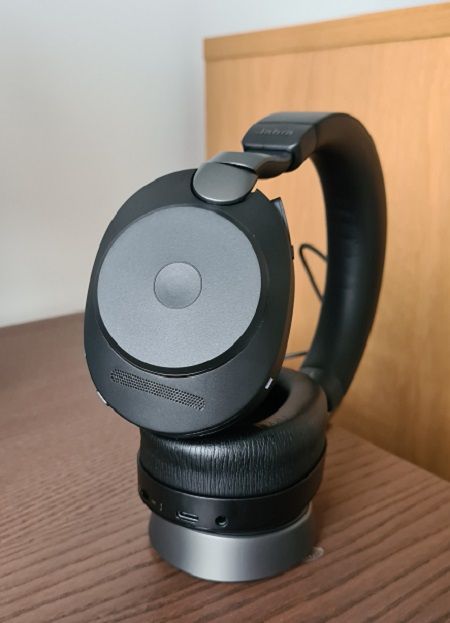 Overall
I didn't get to test this headset in busy places like coffee shops or airport lounges like I would have liked to, but with the currently COVID situation you can understand why those tests couldn't be done. I still am really pleased with this headset and the functionality it's given me. It's my go to headset now for meetings with team mate. I've had great range with the reception and have been able to put myself on mute and run down to answer the front door for a delivery and still hear what the team are saying. 😉 The price point for this headset, in the UK instead cheap and it certainly is an investment but I think if like me you are on calls all the time and need something with create noise cancellation and comfort this definately something you should be considering.