Jabra Elite 85H Review
In this blog post I evaluate a pair of the Jabra Elite 85H headphones.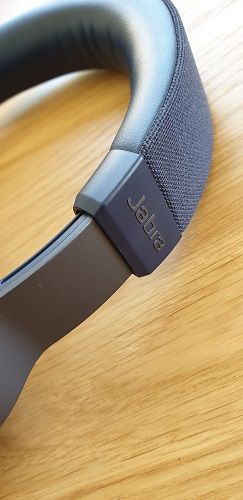 I recently got my hands on a new headset from Jabra, the Jabra Elite 85H. This headset is what I'd call one of the lifestyle headsets. They aren't quite aimed at the business market that Jabra usually cater for. But for those that like the Jabra range these will be pretty intriguing.
The Jabra Elite 85H are over the ear headphones, and I'll be honest they are the first over the ear headphones I've had, for music listening purposes I've always went inner ear headphones, in the past I've just preferred them.
In the over the ear headphone market this offering from Jabra do stand out though. They are a streamlined design and are very understated. They come in a good range of colours, Matt black, Titanium Black, Gold Beige and Navy. I've got the navy ones.
In the box, you get a lot of kit with the headphones which is a nice addition. The headphones come with a sturdy carry case, charging cable, 3.5mm cable and a flight adapter. And all those bits fit in the case quite comfortably, so great for travel or just storage in general.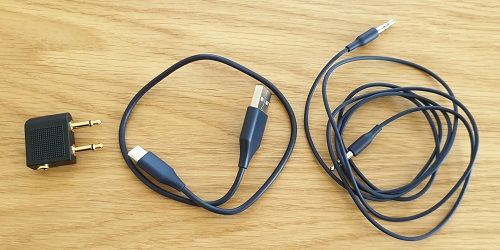 Setup
Setting up your headphones to connect to your Bluetooth device (in my case my Samsung Galaxy S9) was straight forward, the Bluetooth found each other quickly and paired without an issue. I downloaded the Jabra Sound+ and hooked it up which has given me extra capabilities with the headphones, such as configuring the type of sound I would like depending on my location or music, which is a nice touch.
I have struggled to get the headphones to connect to my iPad Air 2 32GB, so I've had to revert to just using the 3.5mm cable and input when I am using my iPad, which is a bit annoying but not the end of the world.
They also connected seamlessly to my Surface Book 2 via the Bluetooth, so I suspect the issue was with my iPad rather than the headset.
Sound Quality
I've been really pleased with the sound quality of the headphones. I listen to a variety of music, from Barbra Streisand to Ozzy Osbourne, so have tested it on a variety of music. I'm not an audiophile though, but I know what I like the sound of and these speakers are good. The music I listen to sounds great and it's enjoyable. I feel like I am getting a good and well rounded sound through the headphones.
Comfort
As I said before I haven't had over the ear headphones before so it's taken me some time to get used to wearing these and dealing with them. I do find them a bit clumsy to wear when I have my glasses or sunglasses on which isn't great. Overall though, over extended use they aren't heavy or uncomfortable to wear. They are quite big and with my head they look even bigger but to honest they don't feel heavy or large when I wear them.
I measured them on my home kitchen scales and they come out at 300g (10.5822 ounces). There are several headphones that would be considered competitors to the Jabra headset, two of them being the Bose QC35 II and Surface headphones. I don't have a pair of either to measure but looking on the Internet they weigh 232g (8.2 ounces) and 289g (10.2 ounces) respectively. So the Jabra's are within range of the other headphones on the market.
Call Quality
The Jabra Elite 85H have the ability to receive/make calls and there are some settings in the app that allow you to set it so voice commands can help you to answer/end calls. I have to say I've been a bit disappointed by the call quality. On the test calls I've heard the person I've called clear and fine but they've struggled to hear me, on a couple of occasions I've actually had to turn off the Bluetooth on my phone and use the phone in a traditional way.
I've also done some test calls leaving messages on my voicemail service and although the sound isn't clear and you could tell I was talking into a direct microphone there was very little background noise recorded just my voice.
I don't think I'd often use this headsets for calls, it would be more for adhoc calls when I'm out and about. I'd reach for my Jabra Evolve2 75 or Jabra Evolve 65 headsets if I knew ahead of time I was going to be doing alot of calls on the move.
Noise Cancellation
I've been really impressed by the noise cancellation facilities. I've used the headphones in shopping centers, coffee shops and at home and not been disappointed. Within the app I have the ability to turn on the Active Noise Cancellation (ANC) technology, or switch to HearThrough or even turn both off and just listen as is.
Both work as you'd imagine and want them to. If I'm being brutally honest with the review, I don't think the noise cancellation works as good as my old Philips SHE8000 Stereo in ear headphones but that's not being far to the Jabra Elite 85h as I am not comparing them with other over the ear headphones.
Battery
Everything I've read about the Jabra Elite 85H praises the battery life and I can confirm I've had the same great experience. I haven't managed to run the battery down with my usage yet.
Overall
I've been really pleased with this headset, in my opinion it's definately in that "lifestyle" range of headsets from Jabra and wouldn't necessarily be one I would turn to for work use.
I do look forward to using them in the future though and are generally my go to headphones now for going for a walk, doing some housework, listening to music while working etc....
I was given these headphones from Jabra to review.