In a previous life my job involved managing servers for my own IT department and for customer's, and it was always a struggle having to juggle multiple Remote Desktop Connections (RDP) or Microsoft Management Console (MMC) sessions, plus the passwords and usernames. Occassionally I'd resort to tools like RoyalTS or Remote Desktop Connection Manager (RDCMan) to try and manage it all in one "single pane of glass". Although those didn't always solve the problem as within the mix of servers I managed there were several Windows Core Servers in there, so I still had the challenge of figuring out all the PowerShell that I needed to manage those boxes.
Well, the magic sauce that fixes all these woes is now available, in the form of the Windows Admin Centre!
Windows Admin Centre

Code named Project Honolulu, it was launched at Ignite 2017 and officially came out of preview in April 2018 and was named Windows Admin Centre (WAC). Windows Admin Centre has been designed to help manage local and remote servers and desktops from one interface.
WAC comes at no extra cost, is easy to use, and it comes in a small download that can be installed in minutes and the best bit is there is no agent to install on the machines you wish to manage.
Why
What I personally love about the tool is that you can manage your servers and their actions from one place, regardless of what version of Windows Server they are running. So you don't have to remember the PowerShell combo to renew a certificate on that Server Core box, you can use a GUI to help the process BUT if you want to know the PowerShell that the console has performed in the background to carry out your mouse clicks you can access that also!
The support of Windows Server also goes back as far as Windows Server 2008 R2, admittedly the support is limited because some of the PowerShell functionality that WAC relies on wasn't available in 2008 R2 but support does exist!
It's not just those on premises servers that you can manage, if you have a hybrid setup with servers within Azure WAC can help you manage them as well. You can manage the server just like any other server you have in your environment, and you have the ability to manage some Azure services as well. At the moment, Azure Backup, Azure Update Management, and Azure Site Recovery functionality is built into WAC which more support for other services on the way. So this really is that "one pane of glass" management console!
There is also the functionality to manage Failover Clusters, or Hyper-Converged Clusters as well as your desktop estate.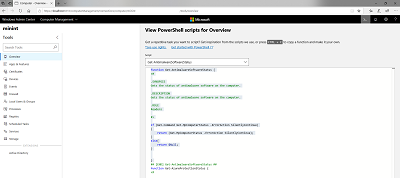 Going forward
The product is a moving target that Microsoft bill as something that is "designed for you with you" and the team behind it are constantly taking on board feedback from end users.
This is now a tool I have installed on my desktop PC and it is something I now talk about within my "Azure Migration story" presentations at work, and I would highly recommend that you go and have a look at the tool and see where you can leverage it within your organisation!
The official Windows Admin Centre documentation can be found here.