The Fearless Girl
My journey from deciding to speak to ending up delivering a talk in Norway, and bumping into the Fearless Girl.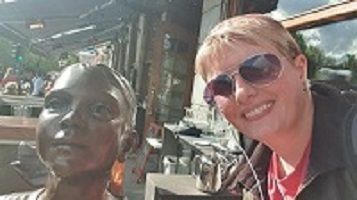 In March 2017 a statue called "The Fearless Girl" was installed in New York to symbolise gender-diversity and the power of women in leadership.
Over a year earlier in June 2016 I was in London watching my Mum, be fearless and present a session at the SITS - The Service Desk & IT Support Show. I remember sitting in the Olympia and being so proud that she's been invited to speak and taken up the opportunity and was owning that stage. It was then that I decided that I needed to take the plunge into public speaking as well and give it a go! It took me a while to get down to that but in August 2017 I delivered my first talk in Glasgow.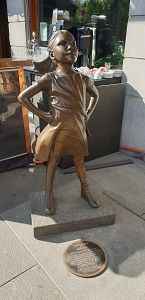 I've built on that first speaking engagement and this month saw me deliver my 16th talk in my third country! This year I became an International speaker and have delivered talks to audiences in Denmark and Norway!
I'm so lucky that the community have these events and that they are interested in hearing what I have to say. A huge thank you to the organisers behind these events for all their hard work and dedication and also to the attendees for supporting them in the way they do.
ExpertsLiveNO
This year saw the first Experts Live event hosted in Oslo, Norway. 26 speakers from various parts of Europe and the US descending upon Oslo to speak at the Felix Conference Centre for over 150 attendees. There were four tracks, Azure, Productivity, Modern Workplace and Security.
The night before the event I got to attend a speaker dinner in a lovely restaurant near the waterfront. It was lovely getting a chance to see the other speakers and it was then I realised I was the only female in the lineup! It reminded me of why I do this, to encourage other women to attend these events and to be brave and fearless and speak at them as well.
Michael Bender had flown from the US to present his first ever keynote, which fell on the anniversary of his first year working at Microsoft. I've been chatting to Michael on Twitter for a long time now and it was awesome to finally get the chance to meet him and speak. I might be a bit biased but I totally loved his keynote. He covered off change and emphasised that within the IT industry change is upon us and we need to embrace it as an opportunity.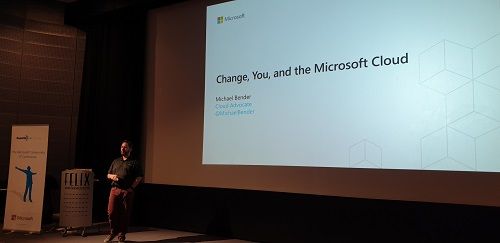 My session "Start your datacentre transformation journey with Azure Migrate" has come along way since I first wrote the description. I do admit to having delivered it at a a events now but I have taken on board the feedback from each of those events and evolved my session. Hopefully when people walk away from it they understand a bit more about how to assess their environment with Azure Migrate and what things to think about and challenges they might come up with.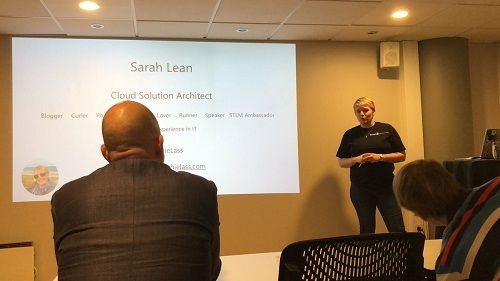 Photo credit to Michael Bender
The session was well attended and I got some great feedback from people afterwards. Thank you to everyone that came and heard me speak, I really do appreciate your support and kind words.
Thank you to all the team behind the event, you all rock for organising a success and friendly event. I think you thought of everything and I look forward to seeing how the event can grow in the future.
Fearless Girl
Thank you to my Mum for being my inspiration and leading by example, if it wasn't for you I wouldn't have started on this journey and now be part of this wonderful community and getting the chance to speak at events outside the UK. And thank you to all the other women out there that continue to be brave, bold, and fearless in your chosen path, keep rocking it and don't stop!
I've got a few more speaking engagements to attend this year in Scotland and next year I'll be applying and hoping to attend more events outside the country. My ambition is to make it to the US to speak at a conference and try and be invited to give a keynote speach.
Dream big and be fearless!