Techair 15.6" Grey EVO Magnetic Laptop Messenger Review
I was given the Techair 15.6" Grey EVO Magnetic Laptop Messenger bag a month ago to review.  I've been using it as my to-go bag for travelling for work.  For the last seven years as a consultant that travels between customer sites I've always preferred a backpack for carrying my laptop, cables, food, water, clothes etc.  But as my current commute involves planes, trains and undergrounds, having a messenger bag has been ideal in terms of saving space.
Techair
Techair are a British company that was founded in 1998, they are based in Marlborough, England.  Since forming they have strived to create bags, sleeves that are functional and a bit different.
Bag Overview
The bag is made up to two main sections.  The larger section has a furry compartment that helps to store your laptop, and also has a section for storing cables and any other items.  There are also two smaller pockets for other items.  This large compartment is secured with two zips.  There is a side zip which enables you to get to your laptop without opening the bag up fully. The second section is made up of smaller wee pockets for pens, cables, business cards, phones, etc, your contents are all secured with keys.  The defining features of this smaller section is that it can be detached and used separately from the larger section.  When used with the larger section it is secured with magnets and clips. Both sections are covered with a large flap cover which also contains a pocket.  This pocket has come in handy for storing boarding passes, and receipts that I need easy access to but need to keep safe.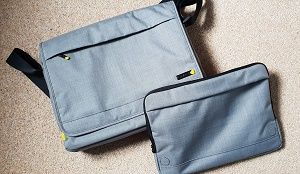 Storage
As I've been commuting to customer sites away from home I've had to ensure I have all the bits and pieces I need to be productive while away, so within my bag I've had to store the following items:
Laptop (Microsoft Surface Book 2)
Laptop charging cable
Tablet (iPad Air 2)
Purse
Charging cables for phone
Portable battery (Anker PowerCore 10000)
Headset (Jabra 75e)
Pens
Security badges for office access
Bottle of water
Wooly hat
The messenger bag has held of this the above, I have to admit I would struggle to get more into the bag without overloading it.  I would have loved to have seen a small cargo net type pocket on the ends of the bag to secure my water bottle, as having to open the bag up constantly for a drink was slightly challenging and awkward.
Carrying
The bag has an adjustable strap that has a large padded part that can be moved to suit comfort needs.  Going from a backpack to a messenger has been quite an adjustment for me, getting a position where I'm comfortable and where the bag doesn't hinder movement has been a bit of a challenge.  As I said the strap on this bag is adjustable, and I've noticed that throughout the day the strap has moved from the length that I had set it at at the start of the day meaning the bag ends up sitting lower than I would like. I'm not sure if this is because I've had to much weight into the bag or whether or not this is a flaw in the strap design.
Aesthetics
The bag is only available in a grey texturised colour, this is the only colour the bag is available in.  To be honest, I actually like it with black straps and accents of yellow on the zips it's quite a stylist bag.   Looking at other people's bags on my travels this one certainly stands out as something a little bit different. Unfortunately some dark blue dye from my denim jeans has rubbed off onto the bag so the back of the bag is slightly blue in colour now.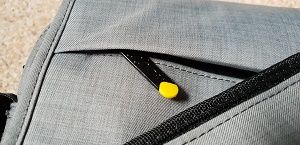 Summary
I've thoroughly enjoyed having this bag to try out and overall it's been quite a positive experience.  It is a bag I would recommend but with some caveats around the strap moving throughout the day and the lack of a dedicated water bottle pocket.  It's a bag I'll certainly continue to use and enjoy. Get in touch with me on Twitter @TechieLass to talk more about this messenger bag!