Microsoft Teams Meeting or Microsoft Teams Live Event
Should you spin up a Microsoft Teams Meeting or a Microsoft Teams Live Event for your event? In this blog post I cover off my thoughts and experiences.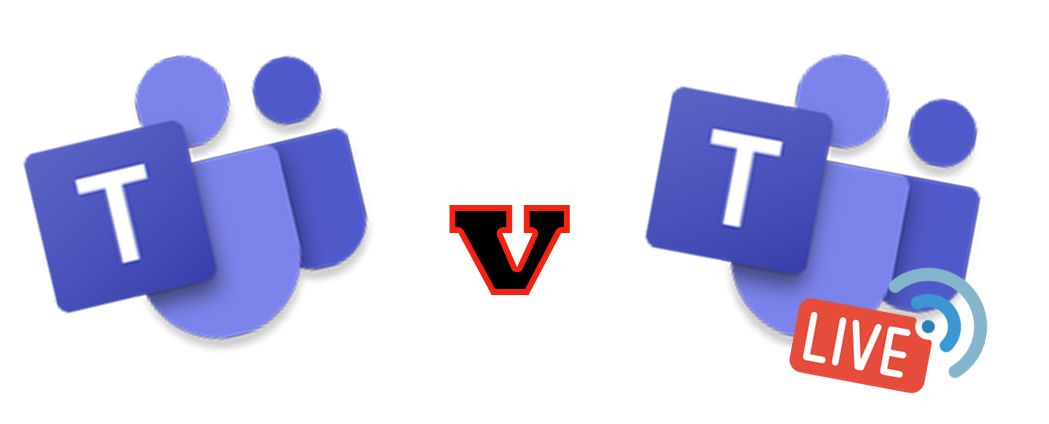 A few weeks ago I was in the situation where an in person meetup had to be changed to a remote one and the organiser wasn't sure what platform to use to host the meetup. I offered help in trying to facilitate the meeting by spinning up a Teams Live event. And I wanted to share some feedback in regards to this versus a Teams Meeting.
Teams Meeting
A lot of people might be familiar with a Microsoft Teams Meeting, I've got 12 scheduled in my diary this week either to catch up with internal team members or to catch up with external parties.
A Microsoft Teams Meeting, allows everyone to join, present their video and audio, chat with each other over the instant messaging (IM) or present their PowerPoint, or screens.
I've always found this format to be really collaborative, it's very much supposed to represent an in person meeting. And I have to say the majority of my meetings for the past two days have been virtually over Microsoft Teams and they've all been a great experience, especially when we share our webcam view and can see each other.
Teams Live Events
Teams Live Events take a meeting to another level. They can be used by a single person presenting their content to a wide audience or can be used by full production teams presenting content. It is a really powerful medium especially if you are presenting to an audience that are geographically spread out or if you are pulling together complex large scale meetings. Internally at Microsoft we have large Microsoft Teams Live Events broadcast from the headquarters in Seattle from our leadership team, which combines multiple cameras, presentations and presenters.
The Live events feature is available to anyone that has an Office 365 E1 or above license.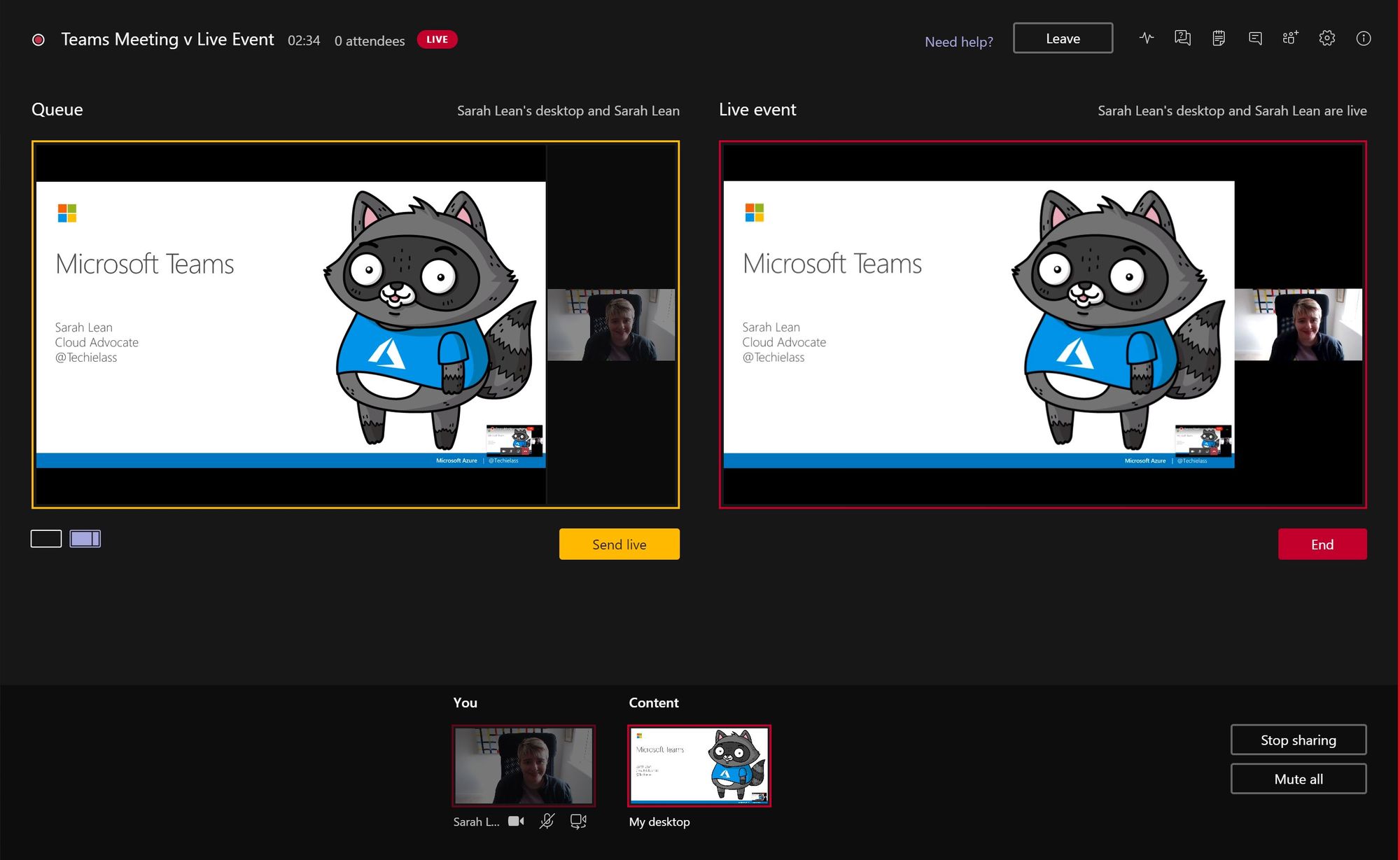 With Live Events there are some things to bare in mind, both good and bad. Let's cover off the good points:
Good
Provide a professional looking meeting/presentation to your audience through Microsoft Teams
The Live Event leverages Azure Media Services and Azure Content Delivery Network to help distribute and scale the delivery of your event to your audience
Attendees can join from any device, browser, Teams desktop app, mobile (iOS and Android)
Live captions available for the audience if they wish, which has the ability to translate from the spoken language in to six others
A recording of the meeting can be created so that it can be shared afterwards
Bad
You really need a multiple screen setup, running it from one screen probably isn't possible
From my experience, I think you need a moderator to help monitor questions from the audience and feed them to the speaker
The audience can't share their video or audio, the only interaction with the presenter is via the instant messaging section and only the presenter/production team can see those questions initially
Switching between different windows/content can be a bit tricky on one device and with one presenter
Things to watch
Within Microsoft Teams you can allow it so that anonymous users can join your meetings, however this setting can be turn off at an organisational level so if it doesn't work for you, you might have to speak to your IT team about the Meeting Settings they have configured.
As with all streaming media if the presenter doesn't have good bandwidth the quality of the content being presented can be quite poor, the video and general PowerPoint slides are very readable but when demo-ing say the Azure Portal it can become a bit blurry.
Community Events
I am hoping to run future Glasgow Azure User Group events virtually on Teams Meetings until we can all meet in person again and I'm going with that format because I want to be able to have everyone interact, everyone can turn on their cameras and audio and talk. But for larger events, for large global events, I might prefer to go down the route of Live Events, to aid delivery of the content globally with the backend services that it uses.
Call to Action
I'd love to hear everyone's thoughts on Microsoft Teams for meetings and what has been successful and not successful for you.
If you are still running Skype for Business in your organisation and would like to learn how to migrate to Microsoft Teams we have a great learning path on Microsoft Learn that can help get you started.
We also have a learning path that can help you understand in more detail the power of Microsoft Teams.
Sponsor