Summer of Talks
A round up on my summer of talks at user groups, remotely.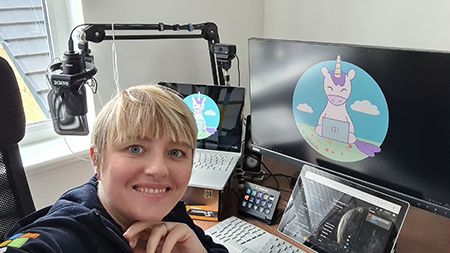 So back in June I sent a tweet out looking to see who was running a virtual event and needed a speaker as I wanted to I speak at events...
Hello meetup organisers, who is holding a virtual event in July and needs a speaker? I'd love to chat about being that speakers. 😀 I can talk about a few topics, you can find more info here - https://t.co/j6V6sYbx8r #AzOps #ITOps #Azure #AzureFamily #womenintech pic.twitter.com/pLYQC7fcrG

— Sarah Lean 🏴󠁧󠁢󠁳󠁣󠁴󠁿 - enjoying time off work (@TechieLass) June 15, 2020
And it kinda blew up much more than I expected if I'm honest! I had a ton of people reach out and ask me to speak at their event, which I am extremely grateful for. I think I managed to reply to everyone, although if I didn't please do reach out to me again and we can have a chat about scheduling a talk at your event. 😀
In total I ended up scheduling 17 events to speak at, those events ranged from user groups, pre-recorded interviews and live shows. All were massively enjoyable, and I learnt a lot from each session.
12 x user group talks delivered
5 x interviews (podcasts, live streams etc) delivered
7 x countries spoken in
It was great to be able to speak at events I've been meaning to for a while or events I would never usually have been able to speak at. It was great to meet up with old acquaintances and also new ones. I learn a lot from both speaking at attending community events, it's one of my favourite ways to learn new things and question the things that I know as well. 😀 Advocating for user group communities has been something I have been doing for the last three years, incase you think I've just started to take an interest since COVID. 😉
Lessons Learned
I have learned a lot from delivering these 17 sessions, which were hosted on a variety of platforms, like Microsoft Teams, Microsoft Teams Live and Zoom, let me share some of the key points:
For the majority of user groups events I was speaking at I created a ICS calendar file entry that people could download and put into their diaries so the details of the event would pop up and remind them to attend, which is an idea I borrowed from Thomas. Which I think really helped, especially for the events I was advertising well in advance.

Make sure you log in early to the event, whether that be on Teams, Teams Live or Zoom. I had a couple of sessions where it took a while for the meeting session to load, which was really nerve-racking. I also had one time where Zoom wouldn't load and I had to restart my computer before joining in. Thankfully I was still early despite that delay.

Put your mobile phone on mute, so no sound or vibrations. Which might seems like a common sense thing to do, but my phone while sitting on my desk, still manages to create a noise when on silent and vibrate only. Very distracting for you and the audience.

Stand up while presenting. I am lucky that I have a sit/stand desk, so can adjust the height to suit whether I want to sit or stand. I tend to stand when I am presenting a session, I just find that it helps get me in the right frame of mind and also helps with my breathing etc while speaking.

Turn your camera on, I know in some meeting software clients, your video is reduced to a small square when you are presenting slides but looking at the camera on your end gives you a point to focus on when talking and also gives those watching something to look at, no everyone enjoys just staring at a slide. 😉

Be prepared if things to go wrong. Things go wrong when we present in person, and we have to be prepared for that, and presenting remotely is no different. Be prepared for PowerPoint to crash, your microphone to stop working, even what you would do if your WiFi or Internet goes down. Some of the things that can go wrong aren't fixable but be prepared for the worst happening as much as possible. I had PowerPoint crash mid way through a session and I had to improvise the rest of my talking points, and I could do that because I had practiced my session and knew the order I wanted to talk about things in. So although the audience didn't get to see the slide deck that I had prepared they heard the messages I wanted to deliver, and because my camera was turned on they still had something visually to look at.

Make sure you have a drink easily available, it's thirsty work talking!

Close down anything you aren't using on your computer. Unwanted browser tabs, music software, document syncing software, anything that could steal Internet bandwidth or computing power, or create a distracting popup.
Take aways
Presenting in person or remotely can be a nerve-racking experience, I still get nerves and have been speaking publicly for 3 years now. And my nerves presenting from my home office were no different to those that I get when presenting in person, but I really enjoyed being able to still share my knowledge and connect with the community in these sessions. If you are haven't presented before or if you haven't ever presented remotely, please do reach out, I'd be happy to help in anyway I can. 👍