Stickers
Looking for Microsoft and GitHub sticker designs? Join me in this blog as I share where I get my sticker designs and then print them off.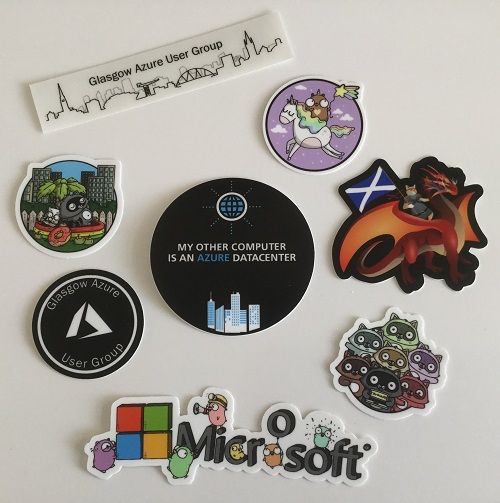 I am often asked where I get the sticker designs that are available at the Glasgow Azure User Group meetups that I run so I thought I'd share a quick blog on where to find those designs, where to print them off and some tips around sizing.
Designs
So I get the designs from the awesome Ashley McNamara's GitHub repo. Bit, is the unofficial mascot for the Cloud Advocate team at Microsoft and Ashley has done a bunch of awesome designs around that. They are open source so can be used for community activities.
If you are looking for Have I been pwned? stickers, Troy Hunt has made the design available on his GitHub repo.
In terms of GitHub mascots, you can find some really cool Octocat designs on the Octodex.
Printing
For all my sticker needs I turn to StickerApp. StickerApp often run some great deals or offers and you can save a bundle if you time your order just right. You also get discounts the more stickers you order so it's also worth thinking about doing a big order.
Sizing
Getting the right size for your sticker can be tricky. Big stickers in my experience, rarely get used. Any of the big ones I've picked up at events have ended up on my large suitcase, I prefer stickers that are of a good size meaning I can get a lot of stickers on my laptop.
For circle stickers I stick to 51x51mm. For Octocat designs I tend to go somewhere around the 51x44mm mark which gives a good size but not massive. If you go with hexagon stickers then the universal size is 44x51mm. What I love about Stickermule is if I put in say a GitHub sticker design and say give me it in 51x51mm they'll come back and say actually given the dimensions 51x44 might be better so your stickers never turn out wrongly sized.
Everyone loves a sticker
It's a great icebreaker in customer meetings. It's a great ice breaker if you are at events and looking to meet people. If you've found some great sticker designs please let me know, let's share the love. Everyone truly loves a sticker!