Speaking at WinOps London 2016
I've been accepted to speak at the WinOps London conference in September 2019, in London, England.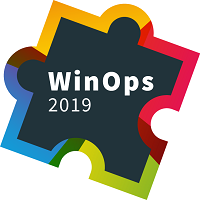 I recently received the confirmation email that I will be speaking at the WinOps London conference in September 2019.
The session is a new talk and the first time I'll be delivering it. The session I am delivering is:
From Pushing Server Cage Nuts to Pushing Code
When I started my career in IT, Infrastructure meant plugging tin together, being the eyes and hands on that operation. However, with the introduction of Cloud and DevOps all of that has changed. We no longer fight with server cage nuts to implement Infrastructure, we now fight with code to do that.
I've transformed from a traditional on premises Infrastructure engineer to Cloud Solution Architect. I've adopted the DevOps concepts of continuous deployment, feedback, and continuous learning to deploy Infrastructure as Code now. I've learnt concepts and tools I'd previously thought were only for developers, my core values haven't changed though I still aim to build resilience, reliable, secure Infrastructure.
This session focuses on empowering fellow IT pros embark on their Cloud and DevOps journey.
Tickets are available from the conference website and if you can get along to the event I highly recommend you do so. I look forward to seeing you there!