Printing at Home - HP Instant Ink
Making use of HP Instant Ink and never running out of ink printing at home
Printers were always my arch nemesis when I was in IT Support, toners would always explode on the days when I wrote white shirts or I'd have to spend hours trying to find that tiny bit of paper that was still triggering the paper jam sensors. I loved to hate printers.
As much as we all talk about going paperless, and keeping all our important notes in cloud storage such as OneDrive or OneNote, there are still occasions when we need to print, or scan something to send electronically. I've been working at home for several years now and buying a printer for the home office was something I had to do, as there was still odd occasions I needed to print out something to sign, then scan back and it was so much easier to have something that home than have to get my husband to do it at his work or making that trip through to the Edinburgh Microsoft office to do it.
I didn't purchase anything fancy, just a small home all in one device from the local electronics/home appliance store, relatively cheap. It was an HP printer, this was back in 2018, unfortunately it didn't survive the house move in 2019. It must have got dropped or had a knock. So in May 2019 I replaced it, with another all in one device, the HP OfficeJet 3830.
When setting it up I noticed there was an offer for HP's Ink service running, the HP Instant Ink Service.
The HP Instant Ink Service is a program where you say how many pages you are going to print every month and either pay a monthly charge, or receive the service free and HP will automatically send out the ink cartridges you need before you run out of ink.
I was initially using the Free plan, which allows you to print 15 pages a month and HP will send you ink accordingly. I only ever printed random pages, the odd ticket I'd purchased online that I need to present in person or boarding passes for airlines that didn't have mobile phone apps. Totally handy service, meaning all I really needed to do was remember to buy paper for the printer and the ink would automatically come to me.
You do have to have your printer on and connected to the Internet for the service to work best, the printer sends telemetry to HP about your page count and ink status.
However, the amount that my home printer got used all changes when my husband started to work from home in March due to COVID19. He often has to print out things for work, just to help manage the tasks that he does. So our little printer went from only printing a handful of pages every couple of months to printing over 300 pages a month. Meaning we had to upgrade our plan HP Instant Ink plan. We are now using the "Frequent Printing plan" which costs £7.99 a month and gives us 300 pages.
On occasion he has printed more than 300 pages, which is allowed, we just have to pay for those pages in 20 page blocks. And any unused pages from previous months can be rolled over. So it's fairly flexible and doesn't necessarily punish you if you have a heavy printing month. And there is no long term commitment either, we can cancel the plan at anytime, upgrade or downgrade.
I've seen a lot of people on social media having issues trying to get ink for their home printers but we've not had that issue as they are coming direct from HP and they take care of sending them out. We've always received the ink cartridge before we need them.
The ink cartridges are also that bit bigger than the ones we can get in the stores as wel, so they last much longer. So more value for your money.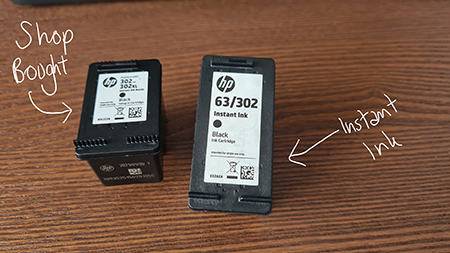 The cartridges are also recyclable, you get a pre paid envelope from HP and you can post the empty/used cartridges back to them to recycle. So great for the environment as well.
If you have an HP printer at home, check out whether or not you can make use of HP Instant Ink Service, and if you click on that link and sign up, you'll get a free month and so will I. 😉