Passing PL-900
My thoughts on sitting and passing the Power Platform Fundamentals PL-900 exam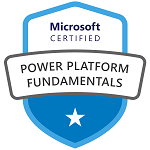 My Journey
I've been taking Microsoft certifications/exams since April 2011, which was the now retired 70-686 - Windows 7, Enterprise Desktop Administrator exam. Since then I've sat around 17 different exams.
Last year I concentrated on the different Azure certifications that were on offering sitting the AZ-900, AZ-302 and AZ-102. This (calendar) year I have set my sights on adding to my Azure exam certifications when I can, so stay posted on what I do in that arena.
Power Platform
At a recent internal training event Dona Sakar, who is now part of the wider team that I am a part of at Microsoft challenged us to learn a bit more about Microsoft's Power Platform and find the relevance for our customers and audience. My first port of call was the Microsoft Learn content and I found the Microsoft Power Platform Fundamentals learning path.
The Microsoft Power Platform covers off a bunch of technologies, Power Apps, Power Automate, Power BI and Power Virtual Agents.
I have experience of implementing solutions within Power Automate (when it was called Microsoft Flow) and Power BI both for personal productivity reasons and customer solutions.
So completing the Microsoft Learn learning path filled in a lot of holes and build on my knowledge. After completing the modules I went and tried each of the products and had a play with them. I always find I need to back up training material with actually using the product "in anger".
Exam PL-900: Microsoft Power Platform Fundamentals
In November 2019 the PL-900: Microsoft Power Platform Fundamentals was released in Beta and it's recently went into generally available mode (meaning you get your result straight away).
After reading the "Skills Measured" section, I realised that a lot of what I knew and what I had just learned would assist me in passing the exam.
I wanted to make sure I was completely prepared for the exam, so did some learning on Dynamics 365 on Microsoft Learn and the Common Data Service (CDS) on Microsoft Learn as well.
Try it
As this exam is fairly new there isn't any practice exams, however I would recommend covering off the following Learning Paths on Microsoft Learn:
As well as trying out some of the products for yourself and you'll be more than prepared for the exam.
Passing the PL-900 exam is a great one to use validate your Power Platform skills. Go out there, Never Stop Learning and validate your skills!