Passing 70-535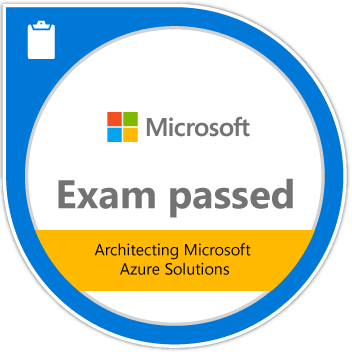 Today I passed Microsoft 70-535. Which is the "Architecting Microsoft Azure Solutions" exam. Passing this exam is supposed to demonstrate that you have an demonstrate an understanding of DevOps technologies, provisioning Azure resources using ARM templates, and designing highly resilient workloads running on Azure.
I was over the moon when the pass came up on the screen, all the hard work and studying had paid off!
The exam itself has been out for quite some time now, since November 2017 and it replaced the 70-354 exam. It contributes to the two large qualifications:
Microsoft Certified Solutions Expert: Cloud Platform and Infrastructure
Microsoft Certified Solutions Associate: Cloud Platform
Am pleased to say I now hold both those qualifications.
Microsoft announced at Ignite 2018 that they were changing their certification paths and retiring some exams, 70-535 being one of.
The exams expiring mean that the qualification you've earned are retiring as well. To keep up to date and valid you will need to earn the new certifications now or in the new year.
Having passed 70-533, earlier in the year and now 70-535 I am now eligible to take two transition exams AZ-102 and AZ-302, to help keep my qualifications up to date.
So there is no resting on my laurels, I need to start working on the next exam pass!
If you need more information about the certification paths check out the official announcement here
As always if you'd like to reach out and speak to me about any of the above please get in touch via Twitter @TechieLass