My top three from MS Ignite 2018
My top three MS Ignite announcements from the 2018 event.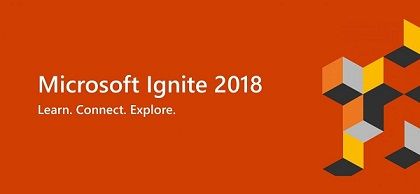 As I'm sure you are aware Microsoft held their big conference in Orlando in September 2018. A large amount of new products and features were announced and it's going to be an exciting time getting to use them. If you are looking for all of the Ignite announcements in one place I'd recommend taking a look at the Book of Updates
A colleague, Guy Gregory, posed the question "What were your top 3 #MSIgnite announcements?". Which is a hard question as there were so many announcements, but I picked three and wanted to expand that answer in this blog post.
Ultra SSD
Azure Ultra SSD was announced which helps anyone that has IO intensive workloads host them within Azure. I think personally from a geek point of view, I was blown away by the demo and the figures they were achieving on a single disk!
The product is in preview at the moment and can be deployed using Azure Resource Manager (ARM) templates within the East US 2 Region. If you are interested in getting involved in the preview, fill out this form.
It's an exciting time and I am looking forward to seeing how people use this hardware advance to host their most demanding workloads in Azure.
The official announcement can be found here
Storage Migration Service
In my past as a Consultant for small and medium-sized business (SMB) I had to deal with a lot of file server migrations. Dealing with application compatibility planning, setting up file shares, copying the data, ensuring the correct permissions were taken across to the new server etc. Despite lots of planning for each of these migrations there was always something that didn't quite happen right.
The new Storage Migration Service that comes built into Windows Server 2019 is now available to save the day!
It can help you migrate your files from your old Windows Server, as old as Windows Server 2003 to a 2012 R2, 2016 or 2019 server. There is no file size limit, so you have you terrabytes of data to move, it can deal with it. There is a limit of 50,000 shares it can migrate but I don't expect that to be an issue for a lot of organisations.
There are a ton of good features coming in the roadmap for this as well. They are bringing in support for Clusters, SANs, NASs, Azure File Sync integration and data analysis, reporting and governance.
For more information check out Ned Pyle's session from Ignite - https://myignite.techcommunity.microsoft.com/sessions/64689?source=TechCommunity
Official documentation: aka.ms/storagemigrationservice
Feedback Hub: windowsserver.uservoice.com
Azure VM Image Builder
Another preview feature that was announced was the Azure VM Image Builder. This allows you to have an image building pipeline.
On-premises most organisations will have a server template that you they use to deploy new servers which have built in configurations to ensure consistency within their environment. This new feature in Azure will help you continue that practice when you move to the cloud.
The VM Image Builder is built on HashiCorp Packer so if you already have Packer shell provisioner scripts on-premises you can now use them to customer a Linux-based Azure Marketplace Virtual Machine (VM) or a Red Hat Enterprise Linux (RHEL) ISO.
The feature currently doesn't support Windows but that is a Roadmap feature they are working on.
Take a look at the official announcement and see how the VM Image Builder can help you on your journey to the cloud!
Summary
Those were the three announcements that caught my eye the most, but there were a load more that are going to make the future exciting! If you didn't get a chance to attend MS Ignite in Orlando this year, there is a chance to visit one of the events throughout the next year...
MS Ignite on Tour
If you didn't get a chance to go to MS Ignite in Orlando this year, the show is now going on the road. From December 2018 to May 2019 there will Ignite events throughout the world. Check out the official website to see if there will be one near you.
As always if you'd like to reach out and speak to me about any of the above please get in touch via Twitter @TechieLass