My Microsoft Ignite 2019 Trip Report
I was a first time attendee at Microsoft Ignite 2019 and a first time speaker at the event also, read how I got on.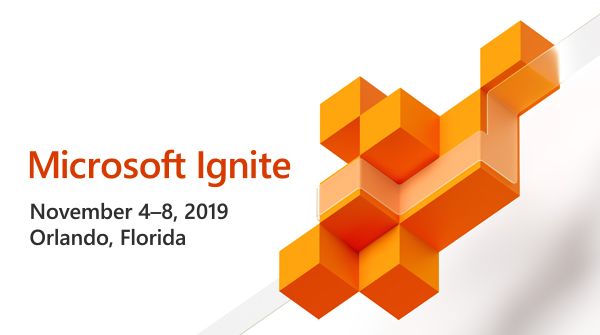 This time last week I was finishing off last minute packing and waiting on my taxi to take me to Glasgow airport for the first of two flights that would get me to Orlando, Florida. I was on my way to the Microsoft Ignite 2019 event.
The last big external conference I had attended was TechEd Europe in 2014, which was held in Barcelona, so I had some kind of idea what I was in for when I got to Orlando, but I was still blown away by the sheer scale of the conference and also the amount of people that were there.
29,000 peeps at #MSIgnite

— Anna Chu 🙋🏻‍♀️ #MSIgnite (@_achu) November 11, 2019
In amongst the firsts, it was also my first engagement as a Cloud Advocate. So there was a lot going on for me personally.
Attending the keynote in one of the massive viewing halls, was an experience, the screens were huge, the audience was large and the announcements were flying!
Azure Arc was one of the big announcements. Which is a an exciting product that helps customers extend and manage their cloud and on-prem environments together. Being able to extend cloud functionality down on-prem and truly bring hybrid environments alive is very exciting and I'm looking forward to seeing where that goes.
Microsoft Learn announced some great new functionality and features. It's key to remember that Microsoft Learn is a free platform for end users to use, so seeing it grow and offer more is super!
New Performance Monitor for Windows Server, also got an update! I've used Performance Monitor extensively over my career, so am familiar with it's strengths and weaknesses so it's really nice to see it getting some love and getting some love from the Windows Admin center team as well.
Azure Migrate, even after going through in evolution in July 2019 got some additional functionality and capabilities. And if you've ever spent any time with me, you'll know this is my favourite Azure product. So I'm super excited about the various features announced.
Session Delivery
On Wednesday, 6th November, I delivered my first ever session at Microsoft Ignite.
Sonia Cuff wrote the presentation deck for "Keeping Costs down in Azure", but I delivered the session in Orlando and I did so in front of some 920+ people. The session was recorded and the slide deck is available for viewing/download if you would like to watch it.
It is definitely the largest room I've ever presented in and largest audience I've ever spoken in front of. Every time I present I am always looking to do at least one thing better than the last time I presented. The experience of speaking at Microsoft Ignite is one I'm very much looking forward to building on.
Microsoft Ignite Live Stage Interviews
On the Thursday I got the chance to play host on the Microsoft Ignite Live Stage that was situated at the back of the Hub. This was another new experience for me. The cameras were on me and my guests, I had to watch the timer, I had to listen to the director who was speaking to me in an ear piece. But I think both went really well.
I spoke to Haley Rowland and Jeff Woolsey about Windows Admin center and some of the new features. The interview can be found here.
I also spoke to Abhishek Hemrajani about the latest updates in Azure Migrate, and the interview can be found here
Community
It was also great bumping into people throughout the conference center. Putting faces to Twitter handles was lovely. I truly do love all interactions with the #azurefamily community and taking those interactions from social media to in person was fantastic. I look forward to being able to see everyone again in the new future.
Overview
I really enjoyed being able to attend and speak at Microsoft Ignite this year. I've come away with some great connections, great ideas for future content and some good sticker swag.