Azure Best Practices and Framework
The Cloud Adoption Framework (CAF) has been developed by Microsoft employees, partners and customers to help organisations on their digital transformation journey. With best practices around Azure migration it is a great reference point.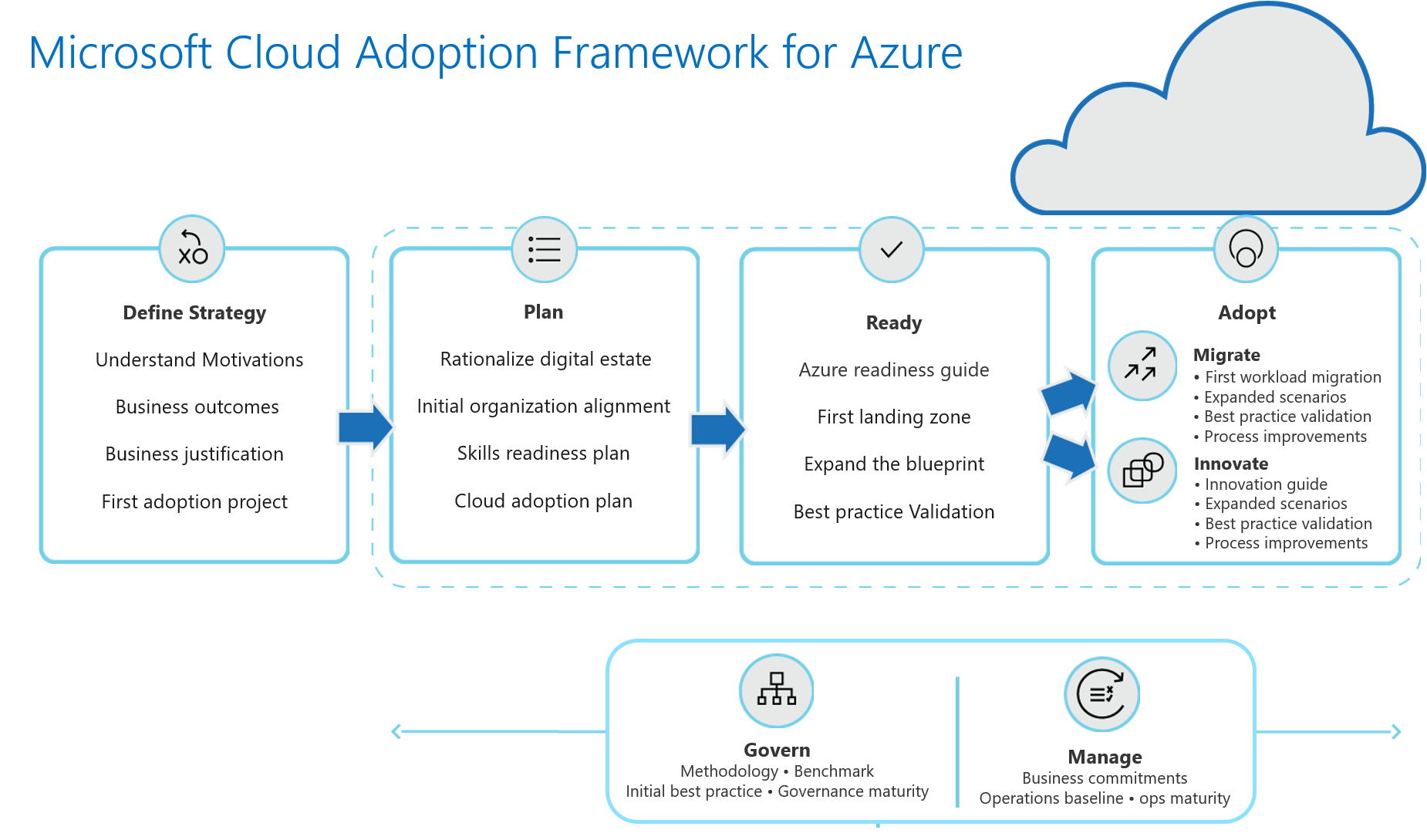 I've worked in the field helping customers adopt Azure for several years now and one of the common questions that is continually asked is "What are the best practices for adopting the cloud?" This question often has many facets around it, the WHAT and WHY of digital transformation and the HOW.
Moving to the cloud for many organisations is a complete change in how they procure and use technology. It's a cultural and procedural change for them and not all organisations move for the same reason, some more to optimize operations, while some move to improve their customer's experiences.
Cloud Adoption Framework
The Cloud Adoption Framework (CAF) has been devised to help provide some guidance along the cloud adoption journey. The CAF is a set of documentation, implementation guidance and best practice written by Microsoft employees, partners and customers. It is a self-service modular approach that helps to guide organisations through establishing their technical strategies beyond that initial "minimum viable product"/landing zone, help define the business strategy and also help facilitate the cultural change that the organisation is undergoing.
Whether you are on a migration or innovation adoption journey of the cloud there are certain journey phases that you will go through, Plan Ready and Adopt.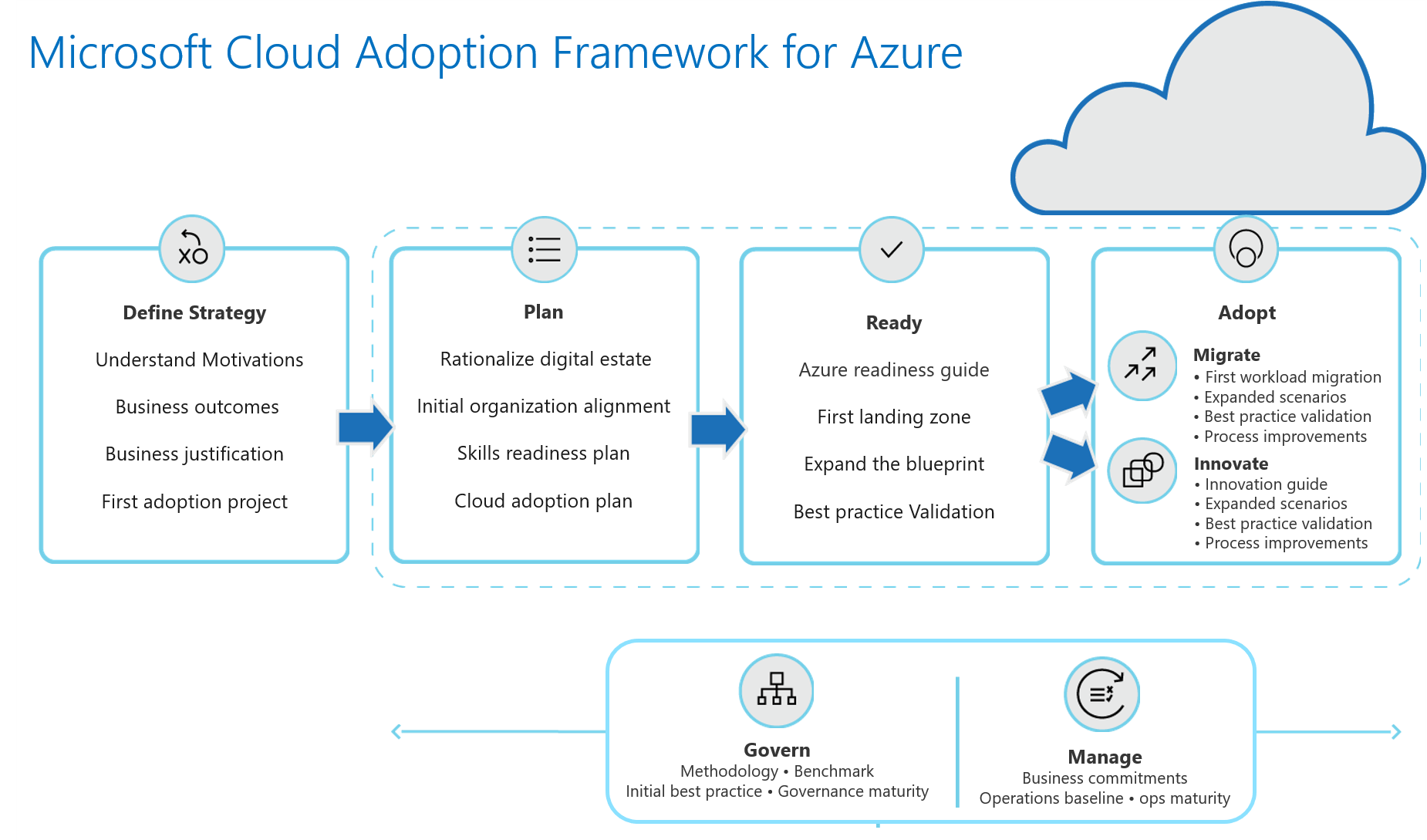 Why use the framework?
A lot of customers I have talked to lately are looking to migrate away from their existing datacenter because the hardware and software is at the end of it's life or end of support. The migration journey to the cloud can be quite a tricky one to navigate due to legacy workloads, business as usual activities, or cloud experience.
The CAF can help to give some guidance around starting that migration, it can help point you in the direction of understanding how to go about selection the workloads you have on-prem into the cloud. Help define the strategy around technology and tools. Help guide you on controlling costs as well as staying compliant and meet regulations your organisation needs to be aware of.
Within the migrate section you can find information on what tools are available for assessing and migrating your workloads to Azure, the native tool that is offered is Azure Migrate, but it is not always suitable for use so it's always worth looking at the third party migration tools that the CAF references.
It isn't just migration tooling that the CAF references it mentions the important of good project management during a migration. And from personal experience it is important to have someone leading your migration and keeping it on track as there are a lot of moving parts. Your techies should be free to focus on the technical aspects, and not having to juggle project management as well.
Best Practices
The CAF also has a bunch of best practices, that you can reference and use for guidance or reassurance that you are doing the right thing for your migration.
There is also guidance on how to run your workloads in the cloud and update your documentation and processes internal to reflect the fact your workloads are now hosted in the cloud.
Conclusion and Learn More
The Cloud Adoption Framework (CAF) is a great resource that can be used by companies looking to adopt the cloud. And the great thing about the CAF is that is open source, so if you have any advice, guidance or suggestions that could add value to the Framework you can contribute to it as well!
Another resource to look into if you are looking to migrate away from your on-prem environment is the Azure Migration Program (AMP), as you maybe able to get assistance from Microsoft in accelerating that journey.