Jabra Evolve 75e Headset Review
A review of the Jabra Evolve 75e Headset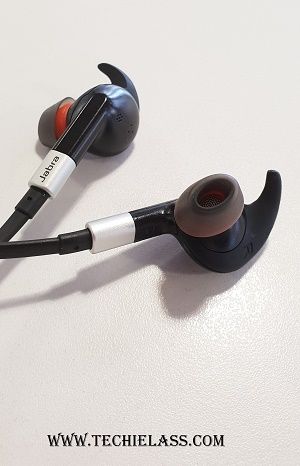 I was kindly given a Jabra Evolve 75e headset to review recently. This is a new headset from Jabra, it is the world's first unified communication (UC) certified wireless earbuds. In a recent review of the Jabra Evolve 65 headset I covered off four pillars, Sound Quality, Comfort, Setup and Noise Cancellation. I am going to cover those four pillars again in this review.
Sound Quality
As I've become accused to the sound quality of Jabra headsets is excellent. The Skype calls I've made with it have always been of high quality. During the working day I've also used the headset to listen to music and videos from my laptop and although the sound quality isn't up there in terms of headsets dedicated to music playback I've found the quality really quite good. I'd say from a music perspective the sound quality is much better than in the Jabra Evolve 65.
Comfort
The Jabra Evolve 75e is an earbud headset, and as you can see from the photos the ear buds aren't the same shape that you might be used to wearing, HOWEVER, I've had no issue with them at all. In my job I can be sitting at my desk for hours, travelling using various public transport methods, etc and this headset has met those challenges. I can sit comfortably with them in all day without my ears hurting or noticing them. I can also walk around with them in without them falling out.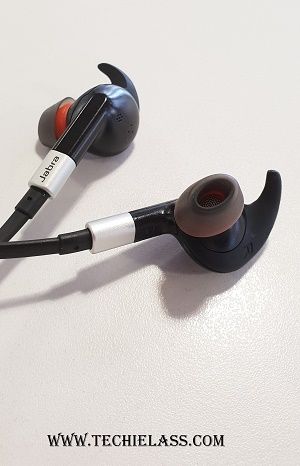 When I have been walking around with them on but not using them the magnets in the earbuds have helped to keep them secure around my neck. There are several buttons on the headset, such as volume, power and mute and I have to say I've had a hard time trying to use them. I thought over the course of a month I'd get used to their location but every time I've had occasion to use them I've found it fiddly and often had to take the headset off in order to find the button I'm looking for. In terms of the battery I've got a good two (working) days of solid use from it. The charging place within the headset does make it a bit awkward to still use while charging but do able if needs be. It uses a USB to micro USB cable for the charging, I'd love Jabra to start adopting the USB C "standard" for their headsets in the future.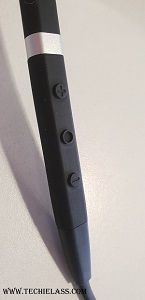 Setup
Getting the headset up and running was a breeze, as with all Jabra products. It comes with a small USB adapter to use within your computer or laptop which I use as it gives a solid connection. The headset is also capable of using Bluetooth technology to connect to your devices. I used this method to connect to my mobile phone (Samsung S9) and that was straight forward as well. I did try to connect it to my iPad but they couldn't find each other. I'm not sure if this was due to user error the environment I was in, as I was in a busy airport so there may have been hundreds of other Bluetooth devices clashing. Switching between using the headset from my laptop to phone and back has been pretty seamless. The headset is capable of having both devices connected, using two different methods easily. The headset does alert you with in ear messages about the battery level but I've found installing the Jabra direct software on my laptop quite useful as it gives me a small battery indicator which I'm now in the habit of checking at the end of the day to see if the headset could benefit from a charge while I'm not using it.
Noise Cancellation
As I sit in this open plan office with probably close to 100 people I am comfortably wearing my headset and enjoying my music without being impeded by the chatter around me. The headset benefits from having Active Noise-Cancellation (ANC) technology built into that can be turned off or on as you need. With it off you can hear some of the chatter going around you while still listening to your call or music. I've found that the noise cancellation for me as headset wearer has been more than adequate, however I've been on a few calls in noisy environments and the microphone seems to pick up a lot of that so it can be a bit of an unpleasant experience for the caller at the other end. Previously I used the Jabra Evolve 65 in a busy airport and callers didn't complain about the background noise but this might be a perception thing on their behalf rather than a "fault" of the Jabra Evolve 75e.
Overview
I have been very impressed with this headset over the last month. It fits neatly into the quality carry case that it comes along with and takes up much less room in my bag than the Jabra Evolve 65 which is a welcome bonus. The functionality as described above has been exception and except from a few "could be betters" this is an great new addition to the Jabra range. At present it's priced at £186.99 on Amazon UK. It is a little on the pricey side but as my Mum always says, you only get what you pay for! ;-)