Jabra Evolve 65 Headset Review
A review of the Jabra Evolve 65 Headset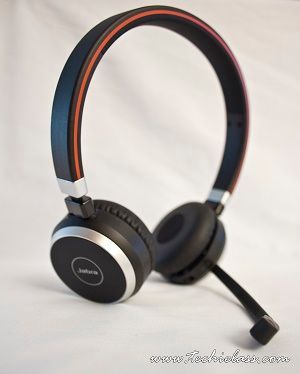 I recently got my hands on a set of Jabra Evolve 65 headset.   These headphones have been on the market for a while and include features such as 100 feet wireless range, 10 hour battery life, busy light and passive noise cancellation.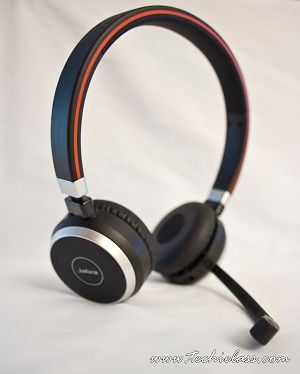 Sound Quality
The most important feature of headset is sound quality.  While I was testing out this headset I was travelling for work so keeping in touch with the family via Skype was high on my to do list.  Using this headset I was able to make clear and crisp calls from the US to the UK over Skype, call quality was excellent.  With the wireless facility I was also able to walk around my hotel room easily without losing any quality in the sound quality. I also tested the headset listening to a few of my Spotify playlists and although the quality didn't match my manufacturer headphones I could easily use them to listen to music in the office in between calls etc.
Comfort
Comfort is another important feature for any headset/headphones, especially in a work place environment as you might be expecting to wear them up several hours at a time.   This Jabra headset has well designed ear cushions and the headset is light, you don't feel it while wearing it.  Even when I had my glasses on and using the headset it felt comfortable – which is a big win in my eyes. The ability to fold up the microphone into the headset so you can enjoy a coffee or snack etc while wearing the headset is a nice touch as well.  There is a magnetic strip build into the microphone and headset band in order to securely tuck the microphone away, this is a nice idea but doesn't quite work all the time as the microphone did some loose a few times. The headset feels like it is well built and it can fold up in a neat way in order to pack away into it's carry case for travelling purposes.  And again it's lightweight and compact enough not to have any impact when it's in your bag.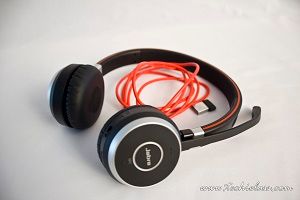 Setup
The headset was very easy to setup, the plug and play claim from Jabra, worked!  I just plugged in the Jabra Link 360 USB adapter into my laptop and turning the headset and my Skype for Business client picked up the new headset and I was easily able to make and receive calls within a matter of seconds without any hassle. The headset comes with a USB charging cable and while I was charging the headset it also worked find with Skype for Business. Using the built-in Bluetooth I was able to pair my Microsoft Lumia 950 phone and iPad with the headset in a matter of seconds.
Noise Cancellation
I got the chance to test out the noise cancellation ability in a busy hotel lobby and at the airport.  I was pleasantly surprised on both occasions, despite the hustle and bustle going on around me I could hear the other person clearly and they were able to hear me without too much background noise creeping in.  The only thing the headset couldn't cope with was the announcements over the tannoy in the airport!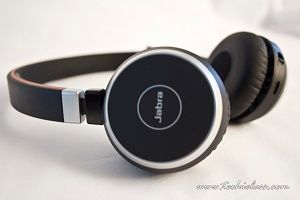 Overview
At present the Jabra Evolve 65
 headset is priced at £97.00 from Amazon UK and for me it's worth every penny. It's a robust and agile headset that will suit the office worker as well as the travelling worker.  A great piece of kit to add to your arsenal.