Jabra Elite 75t Headset Review
I recently got my hands on a set of Jabra Elite 75t headphones. These are wireless headphones designed to be compact, and great for calls and music.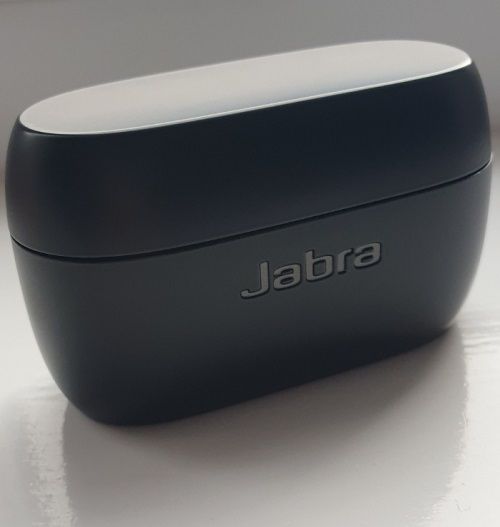 Sound Quality
I've been really impressed with the sound quality that these wireless headphone give off. I listen to music all the time, in the car, at home when I'm working, when I go to the gym, when I go for a walk. And I have quite a lot of meetings that I use a headset for in terms of work purposes. And really enjoy the sound that these headphones offer either from a music point of view or call quality perspective. I have a varied music taste so play music from Barbra Streisand and Ozzy Osbourne and the Jabra Elite 75t make both sound really good. I have no concerns or complaints.
Comfort
The headphones are completely wireless, they aren't connected together, they fit into your ears independently of each other. Now Jabra say the headphones have been engineered to fit into your ear with no issue and stay there. I'll be honest, I've had some issues with the headphones coming loose. I don't have big ears and have found the headphones occasionally come loose, I've only had them fall out a few times and thankfully never lost them. The headphones come with three different sizes rubber buds and I've tried each of them and not found one that really fits my ears.
It's a bit of a concern that I am going to lose them but it's not effect the comfort or sound quality overall.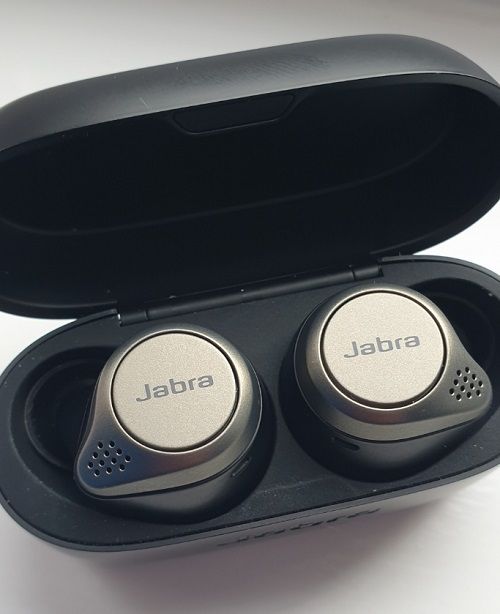 Setup
Setting up the headphones to connect to my mobile phone (Samsung S9) was really easy and straight forward. I was also able to use the Jabra Sound+ App as well on my phone to personalise how I want the headphones to sound, check on the battery level and perform firmware updates on the headphones.
I was also able to get the headphones to pair to my Microsoft Surface Book 2, and was able to listen to music while using my laptop and actually use them when I made Microsoft Teams calls. The one thing I did notice though, when I had my Bluetooth turned on on my phone and headset was connected to my laptop AND my phone, when I tried to make a teams call I couldn't hear the other person speak but they could hear me speak. It was like the audio was attached to the phone while the mic was attached to the laptop. In the end I've gotten into the habit of turning off the Bluetooth on my phone before using Teams and everything works fine.
Noise Cancellation
I've always been impressed with what Jabra does in the noise cancellation category with their headphones. These headphones are no exception, they are great at cancelling out noise in open offices, airport lounges, or even outside. There is also the feature to turn the noise cancelling off so you can hear the noise around you while still hearing whatever is playing in your headphones. I've used this feature when I've been out and about walking and need to hear traffic and it's worked great.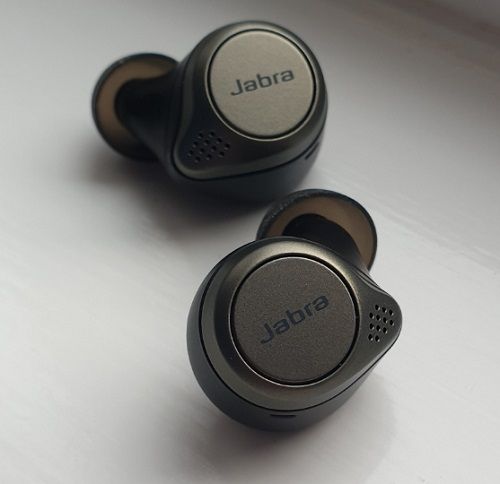 Battery Life
These headphones are charged inside the case that comes with them. You plug in your USB-C cable into the case and the case and headphones are charged together. When your headphones are in the case and not plugged into a charging cable the case will still charge the headphones up. I have to say the battery life is really impressive, the case and headphones really hold their charge if you don't use them for a while. And the life of the battery when using this is impressive as well. Jabra claim you can get 7.5 hours of usage out of the headphones and an additional 28 hours out of the case. I haven't timed the life but I do know I've went for over a week without charging it while I've been travelling which is always a plus for me as I'm a nightmare at remembering to charge devices.
Overview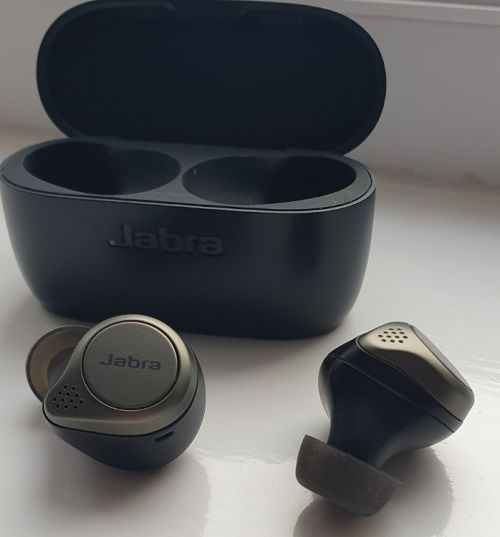 I've been really impressed with these headphones. The music and call quality is top quality, which is a key feature of any headphones. As I suspected before I received the headphones keeping them in my ear has been a bit of an issue, but as it is hat season that has helped keep them in place.
The headphones I have are black and so is the case. I'm not overly concerned with the headphone colour to be honest, but I wish the case had been a different colour. I've often "lost" it inside my backpack because it blends in with the darkness of the inside of my backpack. Having a reflective design or a different colour would be a welcome edition.
The Jabra Elite 75t headphones are designed for office use or light outside use, Jabra have announced the Jabra Elite Active 75t which are designed to stay in while exercising and protect against sweat etc. So be aware of this if you are in the hunt for some wireless headphones and make sure you pick the ones you need.
At the moment in the UK the Jabra Elite 75t headphones are going for £169.00, which is quite steep but I think in line with other wireless headphones.