Is the doorbell dead?
My experience and review of the Ring Doorbell Pro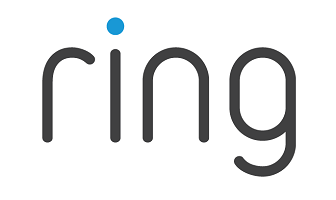 I read an article the other day that said the traditional doorbell on the front of your house is dead because people prefer to text/message that they are outside your house instead. Plus people are also saying that they are not used to the doorbell ringing any more when it does ring they get startled by it.
To be honest, I'm not in the camp that things the doorbell is dead. I still really like to have that installed on my house and I know a lot of friends/family do as well. In my previous house I had a lot of issues with my doorbell and as such missed a lot of parcel deliveries or visitors to the house. So when I moved house earlier this year, making sure I had a working doorbell was high on the priority list tbh.
When we moved in we had a wired doorbell at the front of our house, the builders had handily installed that. So that was a big plus, however, after we moved in I was quickly finding that as my home office is at the back of the house I was missing people because of the length of time it was taking me to get down to the front door or answering the door to cold callers as I couldn't see who was at the door before answering it.
So as I am a techie, I looked to technology to help resolve the issue... I spent a lot of time reading up on video doorbells, there are a lot of them on the market. I had narrowed it down to two, the Nest doorbell or a Ring Doorbell.
I really liked the fact that Nest had facial recognition and pre-recorded quick response technology, and I was looking to get a Nest thermostat for my heating installed as well. However, when they announced that their "Works with Nest" program was due to close later this year limiting what devices could be hooked into it via If This, Then That (IFTTT) I had second thoughts about it. It seemed to like a bit of a confusing move to make and I was worried I'd be locked into the Nest (ultimately Google) ecosystem to much.
So I duly ordered a Ring Doorbell Pro.
Installation
The Ring Doorbell Pro, is a wired solution. The original Doorbell and Doorbell v2 are battery operated, so can be easily installed without having an existing doorbell in place.
I opted to get someone in to install the doorbell to avoid any mishaps. He commented that the installation was fairly easy, he just had to disconnect the existing doorbell I had and connect the wires to the Ring Doorbell Pro. The trickier part was the transformer installation, my existing doorbell had a very small junction box and the new transformer wouldn't fit so he had to get another one to accomodate that. So that is something to watch.
To setup the Doorbell I installed the Ring app onto my phone (Samsung Galaxy S9), create a Ring account and then follow the wizard prompts to install the doorbell. It is a fairly easy process to complete and not complicated at all. The doorbell was up and running very quickly.
The Ring Doorbell Pro comes with a Ring Chime kit that plugs into any socket in your house, I had to pair that with my app and with the doorbell itself, again another easy process. The chime did have to update it's software before I could use it but the app told me that was the case so it wasn't an issue.
My WiFi router (BT Home Hub) is about 16 feet away from the Doorbell and there are several rooms/walls in between the two and it works fine. The app does report that my Signal Strength has an RSI of -66 which is in the "bad" territory. (0 being perfect and -99 being very weak) But I can honestly say it's not been an issue.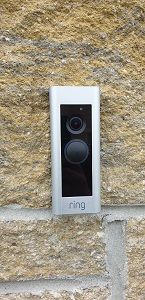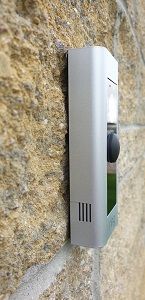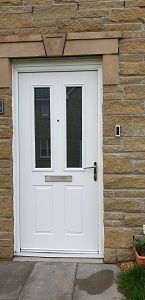 Usage
I've been really pleased with the Doorbell since installation. The picture quality and angle that I get from it is superb. I can see clearly what is going on and response to it. The sound quality on my phone (Samsung Galaxy S9) isn't great compared to the sound quality on my husband's phone (iPhone 8), but reading some forums it seems there is a known issue/bug with the sound and Android devices, hopefully that is something Ring can address soon as it seems to be quite a wide spread issue.
Being able to customise my motion zones (the areas when the doorbell should monitor) has been great and something that is only available with the Ring Doorbell Pro. It's enabled me to avoid an area of the front garden where a tree is and moves quite a bit because of the wind.
I've been able to customise when I get alerted between doorbell rings and motion detections on my phone as well as with the pair Chime. It's been a really smooth and enjoyable experience.
The video quality during the day is superb and I can easily identify people and recognise logos and such like on people's clothing. The quality at night is also great. I've not any concerns over the motion detection going off randomly. We've had really bad wind and rain in Scotland over the past few days and the Doorbell has only went off once in that time because of the rain. The rain also hasn't obscured the camera. From what I understand this has been an issue with the other doorbell models.
According to my WiFi router, the Ring Doorbell Pro has uploaded 5.77GB of data and received 300MB in a week. As I have an unlimited usage plan with my provider I am not worried about the data going up or down to the device. My router also tells me that the device is connected on a 2.4GHz signal, there is a 5Ghz capability on my router.
I would say I am a little bit disappointed at the delay in receiving alerts to my phone for motion or when someone rings my doorbell. An example of that was today I was sitting at the front of the house and could see our front path, the postman came up and delivered mail and left and only then did the motion alert ping on my phone. So there does seem to be a delay, this could be because of my weak WiFi signal but it does seem a little excessive. At some point in the future I will install a Mesh wireless network in the house, which will hopefully improve the WiFi signal.
Currently I am in the free trial period of the Ring Protect Plan and am still unsure if I will purchase it once it expires. If I don't renew then I will not be able to view, share or download older events. I will still get real time alerts and notifications but archived events won't be there for me.
Overview
Overall I am pleased with my purchase, I thankfully managed to get the Ring Doorbell Pro at a time when there was a promotion on so it wasn't overly expensive. And I'll be honest I think the offer price, £179, is the correct price point for this, rather than the normal £229.