Hands on: Lenovo ThinkPad X1 Fold 16 Gen 1
Join me as I review the Lenovo ThinkPad X1 Fold 16 Gen 1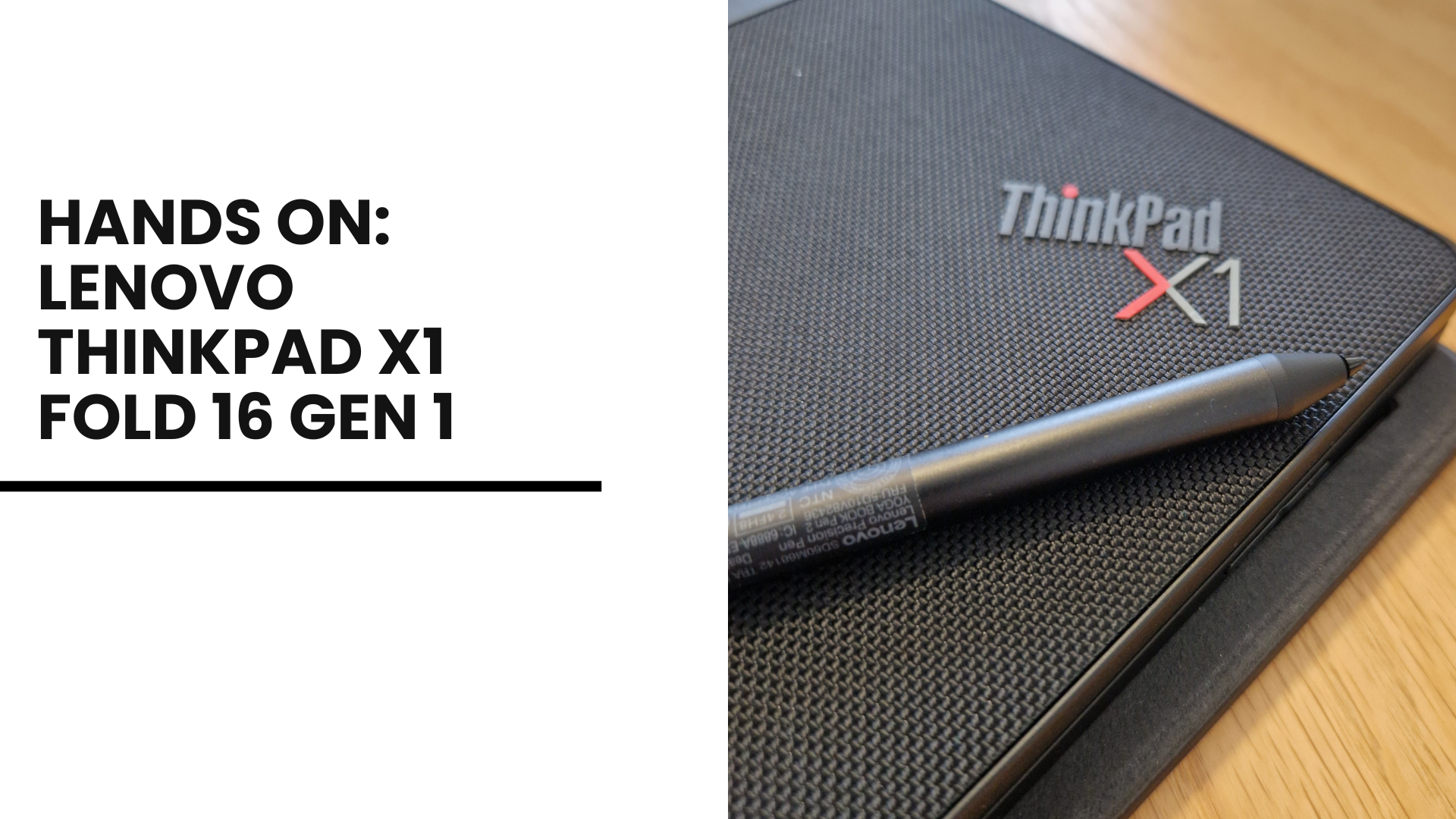 In September 2022, Lenovo announced at Tech Life 2022 the ThinkPad X1 Fold 16 Gen 1.
A 16" laptop device that folds like a book.
I've been lucky enough to get my hands on one of the devices to try and give you my thoughts. Thanks to Hollyn Phelps for organising this opportunity and the Lenovo INsider programme.
First Impressions
I was excited to unbox this device and see what it looked like. This device's top cover is 100% recycled PET* plastic Woven Performance Fabric. It feels grippy and tactile.
Once I unboxed the device, I was excited to try out the folding feature; I don't mind admitting I was a little scared to unfold it in case I broke it, but I shouldn't have worried. The device is robust. It did take me a few days to get used to, but ultimately it's a well-built device with a very innovative design.
Mobility and Daily Use
For the past week, this device has been my daily driver. I've written blog posts, answered emails, watched YouTube videos, listened to music and edited videos.
Don't be fooled by the size of this device; it is a fully-performing laptop. The device I have been using has the following:
12th Gen Intel Core i5-1240U
16GB RAM
1TB Hard Drive
Intel Iris Xe Graphics
Windows 11 22H2
Capable of running the tasks and workloads that I need a laptop to do.
The difference with this device, though, is its mobility. It has several ways of setting it up and using it. To write this blog post, I have the screen vertically against the kickstand, and the keyboard is separate.
Having the screen in this vertical position lets me quickly see the entire A4 page I am writing within Microsoft Word, which is a great way to write!
The device has a Windows Hello-enabled camera, so signing in is a breeze. And within the keyboard is a fingerprint reader, another great way to authenticate that it's you when logging in.
I like to sit on my couch and do some work, especially at night, and I was worried that this device's form factor wouldn't allow me to do that, but I did manage to get the device into a position where it could sit on my lap, and I could be productive.
Honestly, though, this is where a traditional form factor laptop wins in mobility. Although my experience with the ThinkPad X1 Fold 16 Gen 1 was usable, it wasn't great. For working on the couch on my laptop, I'd prefer my ThinkPad X1 Carbon.
Music is essential to me; it helps me concentrate, so I had to test the speakers on the ThinkPad X1 Fold 16 Gen 1. I was impressed! At half volume, the speakers were loud; at full volume, they filled my room. There are three speakers in the device, and they are tuned with Dolby Atmos for that deep audio and spatial abilities.
Weight
The ThinkPad X1 Fold 16 Gen 1 is 2.82 lbs (1.28 kg) for the tablet only. It increases to 3.8lb (1.9kg) when you combine the tablet, folio and stand.
Laptops are all designed with specific purposes and needs, but if we look at other devices on the market for comparison.
The Apple MacBook Air weighs 2.8 pounds (1.28kg) and the Surface Studio Laptop weighs 4 pounds (1.81kg). Comparing the X1 Fold 16 Gen 1 to traditional laptops sees it come out best in the weight category.
The ThinkPad X1 Fold 16 Gen 1 is a lightweight device, yes it could be lighter, but it's still a comfortable device to carry round in a backpack for commutes.
Screen and input options
The screen is really impressive. It has a 2024x2560 resolution, OLED panel, 600 nits brightness with HDR, 100% DCI-P3 colour, and Dolby Vision. It is a touch screen and has inking support.
It's hard to explain how good the screen is, but it is. Watching something like "Black Panther" or "Avatar", two visually pleasing movies, was a great experience. I got to enjoy the vivid colours and action in both.
And, of course, for those work-related tasks or browsing the Internet, it's more than capable.
One of the most significant complaints users had with the Gen 1 version of the device was that the keyboard was too small. The keyboard with the ThinkPad X1 Fold 16 Gen 1 has been totally redesigned and is a full-size keyboard.
The keys have a depth of 1.35mm, a sweet spot. It is a joy to type on for short or long periods of time.
The keyboard has a TrackPoint built into it for the purest that love using that.
The touchpad built into the keyboard has no physical buttons on it. It has been designed for you to press on the touchpad to act like a button, which works well.
The keyboard connects to the device using Bluetooth, so you must remember to charge it. It uses USB-C, the same as the device, so only one charger is necessary. Because it is not physically attached to the device, you can set up your workspace the way you want with the keyboard close or far away from the device that makes sense.
Battery Life
According to Lenovo, the device can last up to 8.5 hours on a single charge, which should be more than enough for a full day of work.
When I was streaming videos/movies/TV with the video, the battery life drained quite quickly. Which I expected but was also disappointed in, I had expected it to perform a bit better. It was starting to struggle around about the 3-hour mark. Just enough for me to watch a Scottish Curling Championship match, thankfully!
It has made me think about how I use the device and would be worried about going anywhere with a charger. Maybe it was just the type of activity I was doing and it could easily handle multiple text files and an email client during the day, but it's unfortunately seeded that doubt for me. So I'll ensure I am always near a charger and power socket.
Final thoughts - Lenovo ThinkPad X1 Fold 16 Gen 1
The Lenovo ThinkPad X1 Fold 16 Gen 1 is an innovative and impressive device. It pushes the boundaries of what a laptop can be. It stays true to the Lenovo brand and feels well-made and thought-about.
In terms of performance, it boasts impressive hardware, including a 12th Gen Intel Core i5, 16GB of RAM, and Intel Iris Xe Graphics. This laptop is more than capable of handling a wide range of tasks, making it a versatile workhorse. Its various usage modes and features like Windows Hello and a built-in fingerprint reader enhance the overall user experience.
Mobility is a key feature of the ThinkPad X1 Fold 16 Gen 1, and it offers flexibility in setting up your workspace. However, when it comes to working on a couch, it falls short of the comfort a traditional laptop like the ThinkPad X1 Carbon provides.
In summary, the Lenovo ThinkPad X1 Fold 16 Gen 1 is a testament to Lenovo's commitment to innovation and quality. While it may not replace traditional laptops in all scenarios, it offers a unique and captivating experience for those seeking an innovative device that pushes the boundaries of what a laptop can be. Whether you're a tech enthusiast, a professional, or someone who appreciates cutting-edge technology, the ThinkPad X1 Fold 16 Gen 1 is worth considering for its blend of performance and ground breaking design.