Glasgow Azure User Group and TechUG
Last week was a pretty awesome and exciting week!
Glasgow Azure User Group
On Wednesday the second GAUG meeting was held in the HAYS offices in Glasgow City center.  It was great seeing so many engaged and enthusiastic techies give up their evening and spend time learning about Azure.   We had the pleasure of having two excellent speakers in Dave Samuelson and Christos Matskas attend, they covered two different topics.  One session was on Azure Fundamentals and one on Serverless within Azure. Product Forge  kindly came along to the event and live streamed/recorded it for us.  They had some technical difficulties on the night and had to stream the event over 4G, but the feedback we've had it was a nice addition to the meetup and worthwhile. If you want to check out the event it is available on YouTube: https://www.youtube.com/watch?v=0yub7gseB8w
Twitter Moment
We've complied a Twitter Moment with some of the great tweets that we received during the event: [twitter_moment id="901040477901901824" limit="2"]
Thank you
A huge big thank you to everyone that attended the meetup or supported it from afar.  Your support is very much appreciated!  We want GAUG to be a valuable resource for techies within Glasgow and further afield so if you have any feedback from the meetup please let us know - http://bit.ly/2wa7PsP Plans are already in motion for our next meetup on the 25th October so keep an eye out for details of that!
TechUG
On Thursday last week the Technology User Group (TechUG) event came to Glasgow.  If you've never attended this it is a 1 day conference that brings IT professionals together in a bid to help share knowledge and meet new people.  It covers a whole host of technology and topics.  It's a completely free event thanks to the generous support from their sponsors.  They don't only hold events in Glasgow but cover the whole of the UK and Ireland. Last week there were talks from Elton Stoneman on Docker, Toby Brown on Citrix, Eamonn Keane from Police Scotland on Cybercrime, Gordon Davey on how his company are going to a Cloud 1st model, Brendan Higgins on GDPR and Spencer Allingham from Condusiv talking about fixing your storage IO issues. I also was on the agenda talking about Office 365 and backups.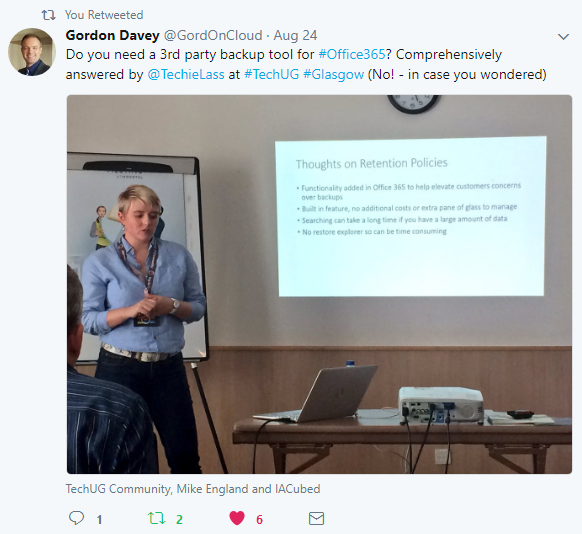 It was the first time outwith work that I've done any public speaking, and I will admit to being nervous but hopefully the attendees in the room got some value from it.  Would love to do more speaking, so will be looking to do more in the future.  I've made my slide deck available below:
Summary
It was an exciting week and I'm looking forward to more Glasgow Azure User Group events and getting more involved in the community!