Getting started with Microsoft Teams
Microsoft have now released Microsoft Teams to the general public.   This new offering within Office 365 is a new collaboration application, putting Microsoft directly in competition with Slack.  Teams is available to  anyone with an Office 365 Business Essentials, Business Premium, and Enterprise E1, E3, and E5 plans.  By default Teams is enabled but from within your Office 365 admin portal you can enable or disable it.
Accessing Microsoft Teams
There are three different ways in which you can access teams:
Directly from your browser by visiting https://teams.microsoft.com
By downloading and installing the desktop client
Or using the mobile phone app, one has been made available for Windows, iOS and Android devices
Creating a team and adding users
When you first log into Microsoft Teams for the first time, you are presented with the option to create a new team.  You get the option to create the team name, add a description and set the privacy of the team.  Public means anyone within your organization can join, good for things such as social events in your office or "Friday Funny" type chats. Once you've created the team you need to start adding some members in order to make full use of this new Office 365 feature.  Unfortunately you can only add users within your organization but in the near future Microsoft should be adding a feature where you can add in external users.  When you add a user to a team they will be notified by email and through a notification on the Teams portal.
Microsoft Team Features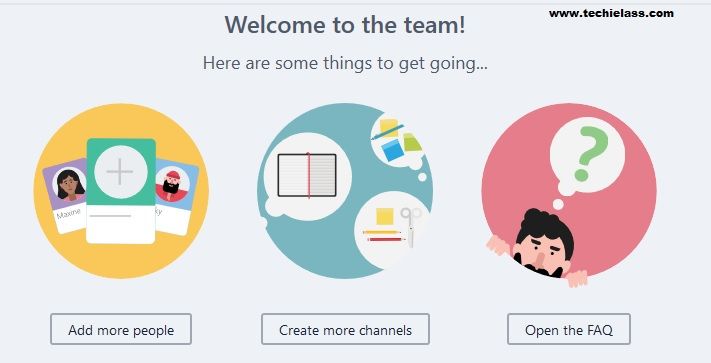 Teams is designed to be a collaboration tool and as such there are features integrated that allow serious business chats to be productive and allow general office chat to be fun and relaxed. There is integration with the Office 365 tools such as Excel, Word, OneNote, Skype etc. as well as third party tools such as Twitter, and Google Analytics. For example if you want to monitor a hash tag within Twitter you can set up a Channel Connector that will publish the results of tweets that contain that hash tag into your Team feed.  Allowing your users to go to one place for that information. Emoticons, @ mentions and animated gifs are available for you to help communicate effectively with your fellow team mates.
Summary
Overall I believe Microsoft Teams is a good edition to the Office 365 platform.  It will allow teams to collaboration more effectively for both work related projects and general chat and once Microsoft introduce the feature that allows external users to be added to teams it will become even more useful.  It's definitely going to make a lot of people think twice about using Slack as their online collaboration tool.