Festive Tech Calendar - Cloud Advocate AMA
Live AMA with some Microsoft Cloud Advocates as part of the Festive Tech Calendar event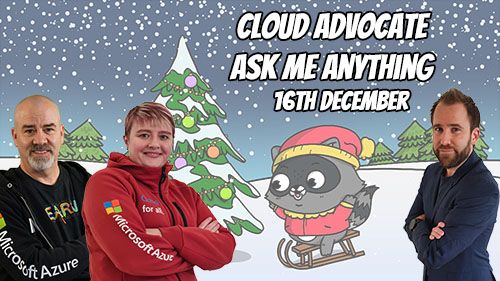 As part of this year's Festive Tech Calendar event which is being run by Gregor Suttie and Richard Hooper, myself and a couple of my colleagues will be doing a fun Q&A or Ask Me Anything session.
On the 16th December at 3pm UK time, 4pm Switzerland time and 10am Ottawa time, myself, Pierre Roman and Thomas Maurer will be answering your questions on Azure, Hybrid cloud, Windows Server or even what our favourite Christmas movie is. The stage is open for you to ask us a question and we'll try and answer it. This session will be an hour long and we'd love to have you all join us LIVE.
You can tune into the event on our Youtube channel, be sure to hit that reminder button so you are reminded of the event, or download the calendar ICS file here and add it to your diary and block out that time. 📅
Let's have some fun as part of the Festive Tech Calendar event!