Edinburgh Azure User Group
Last night I had the pleasure of attending the first meetup of the Edinburgh Azure User Group (EAUG).  This is the East Coast sister group to the user group that I founded earlier this year.  It's exciting seeing the community come together to engage and grow. The Edinburgh Azure User Group is run by David Samuelson and Adrian Lavery, both are Cloud Solution Architects within Microsoft and passionate about Azure. Last night Aberdeen Standard were very kind to host the event and provide the pizza and refreshments.  Which went down very well with the attendees.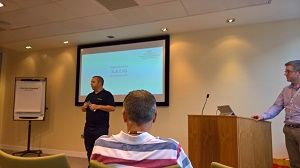 First up on the agenda was a talk by Michael Speed, the Head of Core Architecture at Aberdeen Standard Investments, who provided us with an insight into how they have been adopting Azure within their environment.  He was joined by Derek Paton as well during this talk.   It was great having an insight into what a large finance sector company is doing within the Cloud and fascinating hearing their IT road map is firmly set within the Azure space. The second talk was by Adrian.  He walked us through a technical example of how to use Azure to modernise a legacy on premise application without changing any code.  For someone like me who is more an infrastructure engineer it was great to see how Azure can be used within a Development aspect.  I'm intrigued to what the platform can do and will definitely be setting some time aside soon to have a go by seeking out some of the demo's that Adrian mentioned that are available on Github. It was a great first event for the user group and I am looking forward to more.  It is hoped that we will be alternating events between Glasgow and Edinburgh for the user groups.  The next event for Glasgow is being held in October and the next Edinburgh event will be in November.