Directly connect your Ubiquiti Dream Machine Pro to BT Fibre
💡
August 2022 - BT are now starting to roll out Digital Voice service for their phone landline service. In doing this they are disabling port TEL1 on the Huawei modem. This now means to get your landline to work it must be plugged into the BT Smart Hub 2.

So you may not want to bypass the BT router completely now.
When I installed my Ubiquiti Dream Machine (UDM) Pro into the house one thing I wanted to do was try and directly connect my BT Fibre connection to the UDM Pro without having the need for the BT supplied router.
On looking through various forum posts the information was mixed, some people seemed to have successfully done it, with others having no luck at all.
When I got the UDM Pro this is the steps I took to get the connection directly working with my BT Fibre connection.
In our house we have this box which brings the fibre into the house: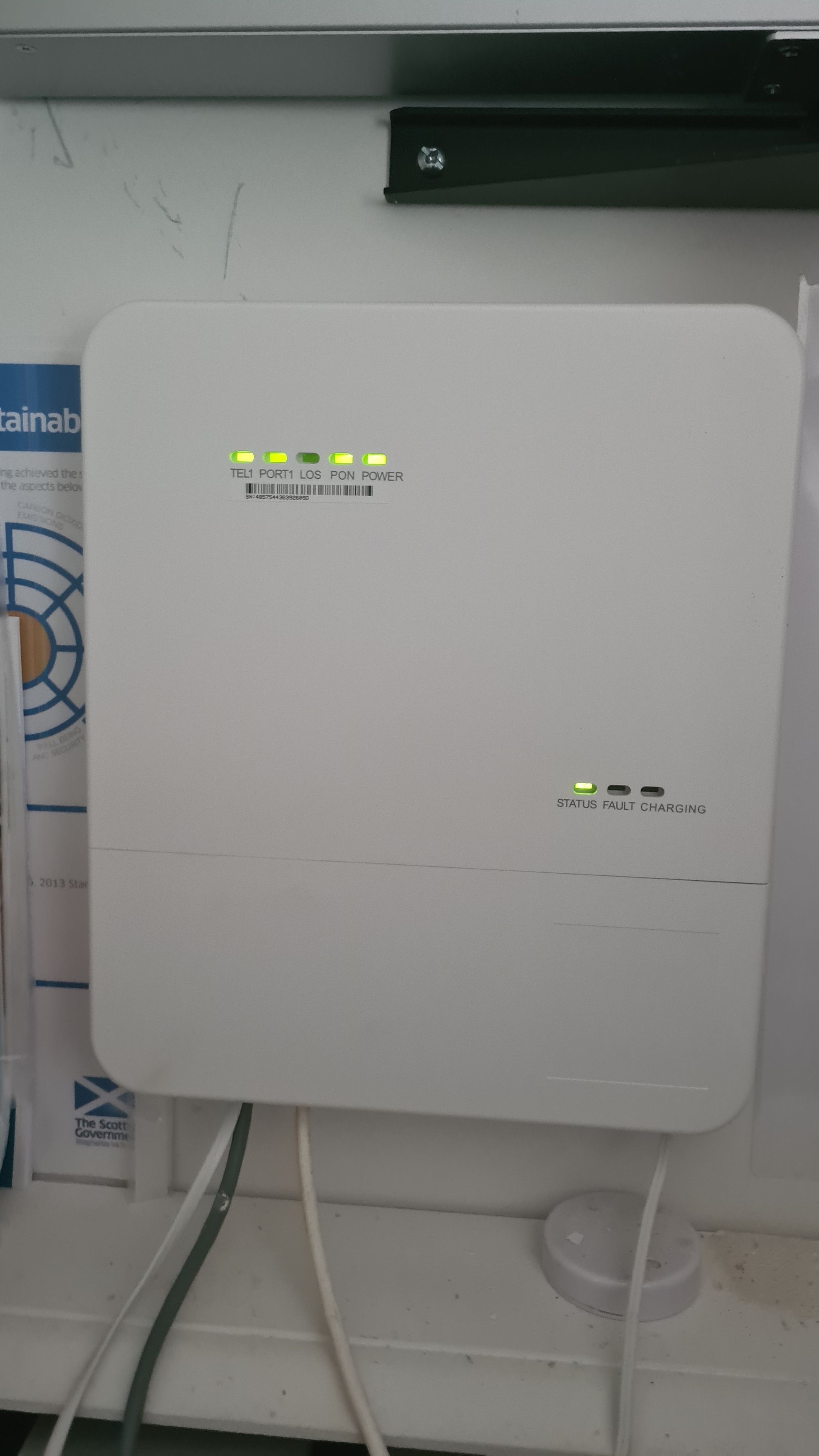 It has an ethernet cable coming out of it that usually plugs into the BT router, what I did was take that cable and plug it into the WAN connection on the UDM Pro.
I then plugged my laptop directly into the UDM Pro so I could connect to the management console at https://setup.ui.com
Once logged in I went into settings of the UDM Pro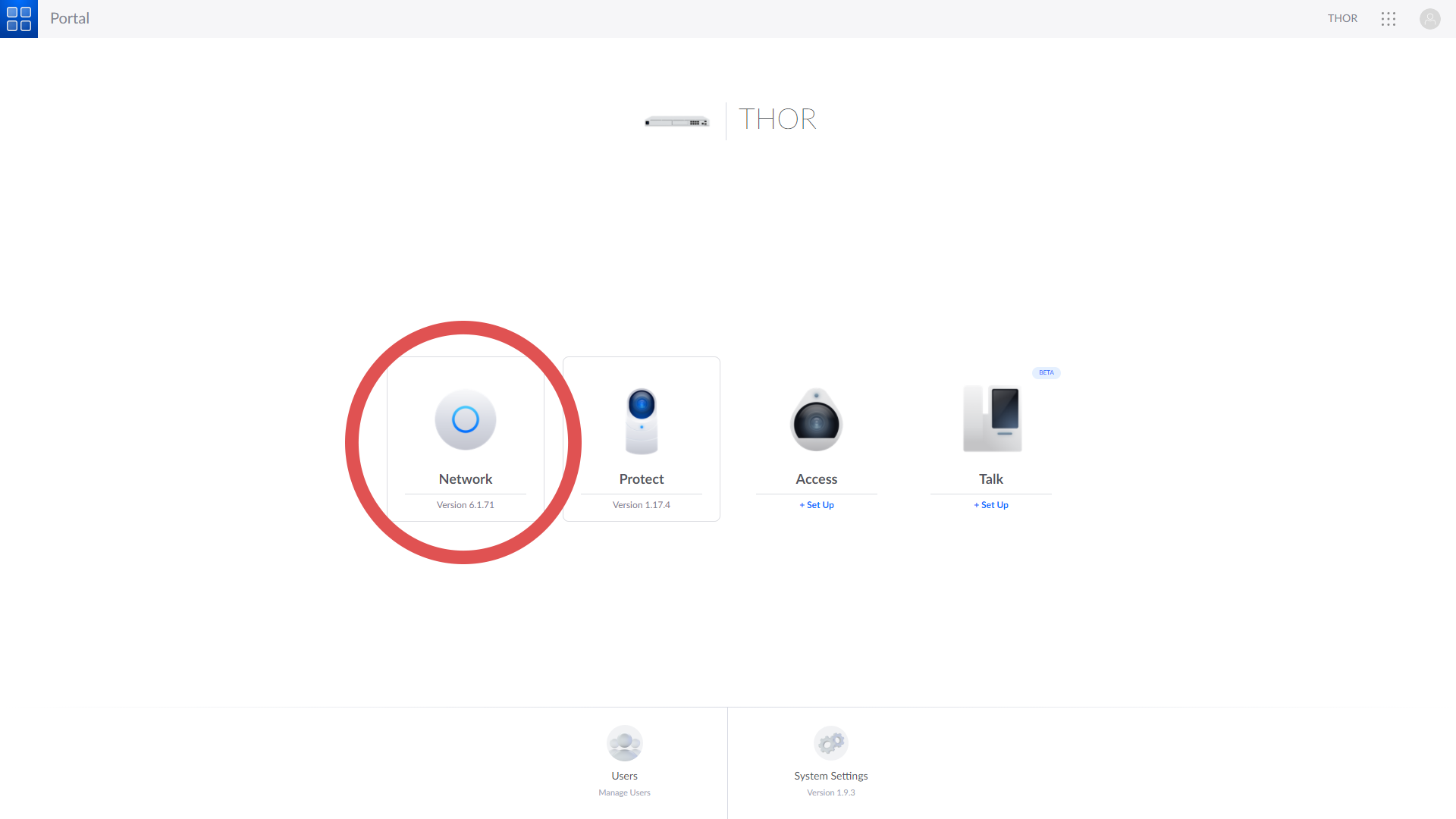 Then into the settings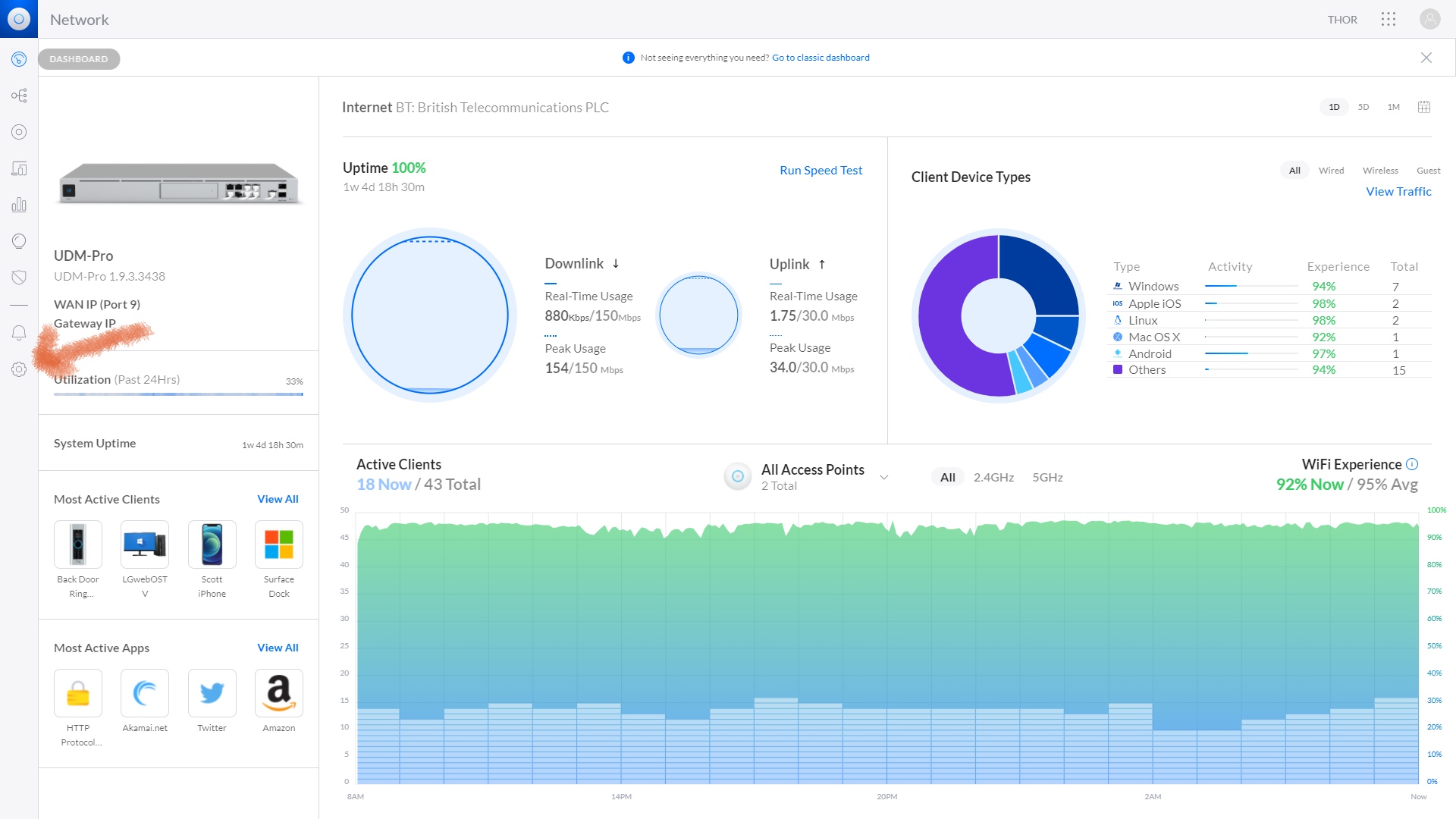 And then clicked on Internet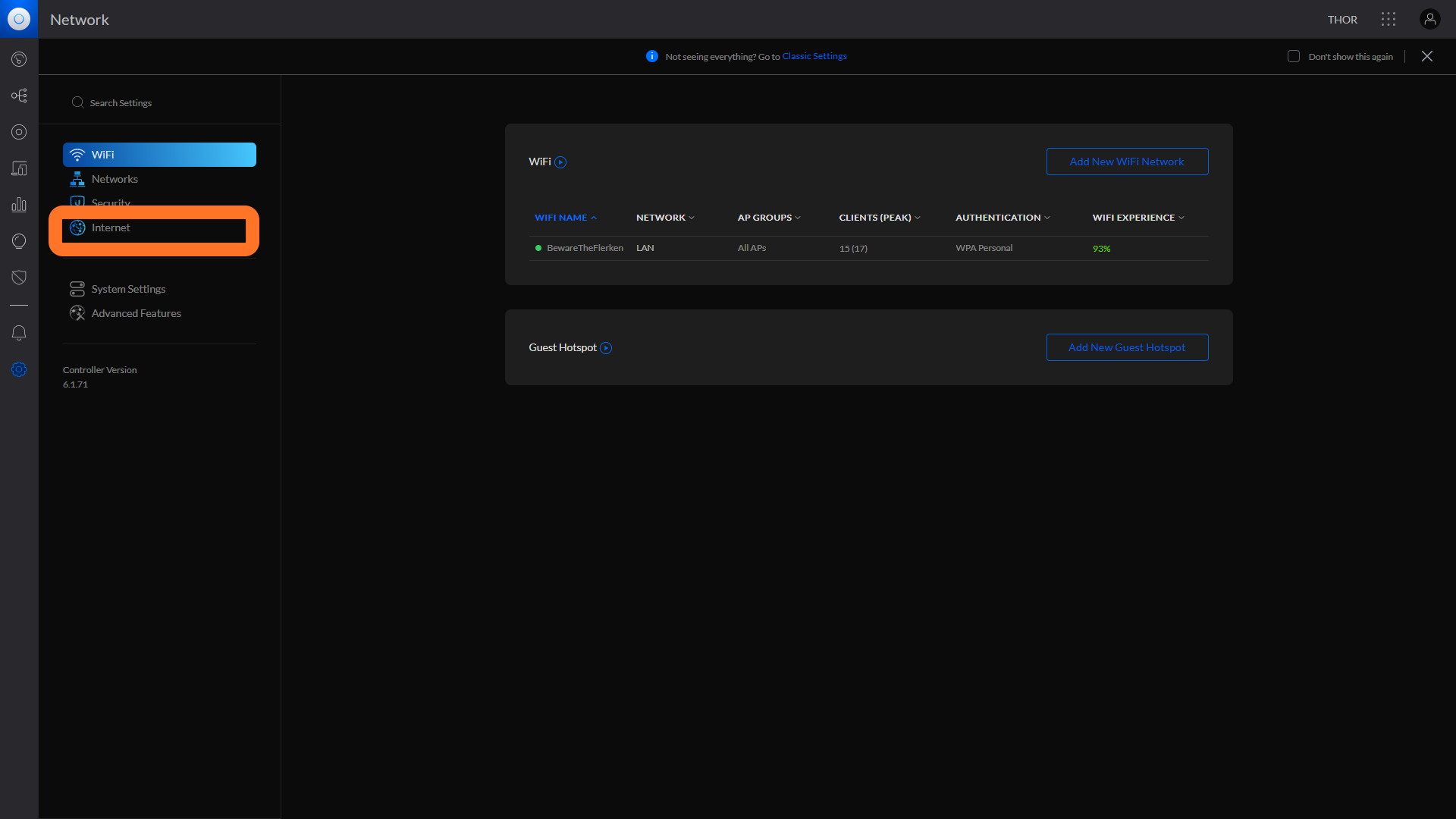 Within the WAN connection settings I inputted the following details
Username: bthomehub@btbroadband.com
Password: BT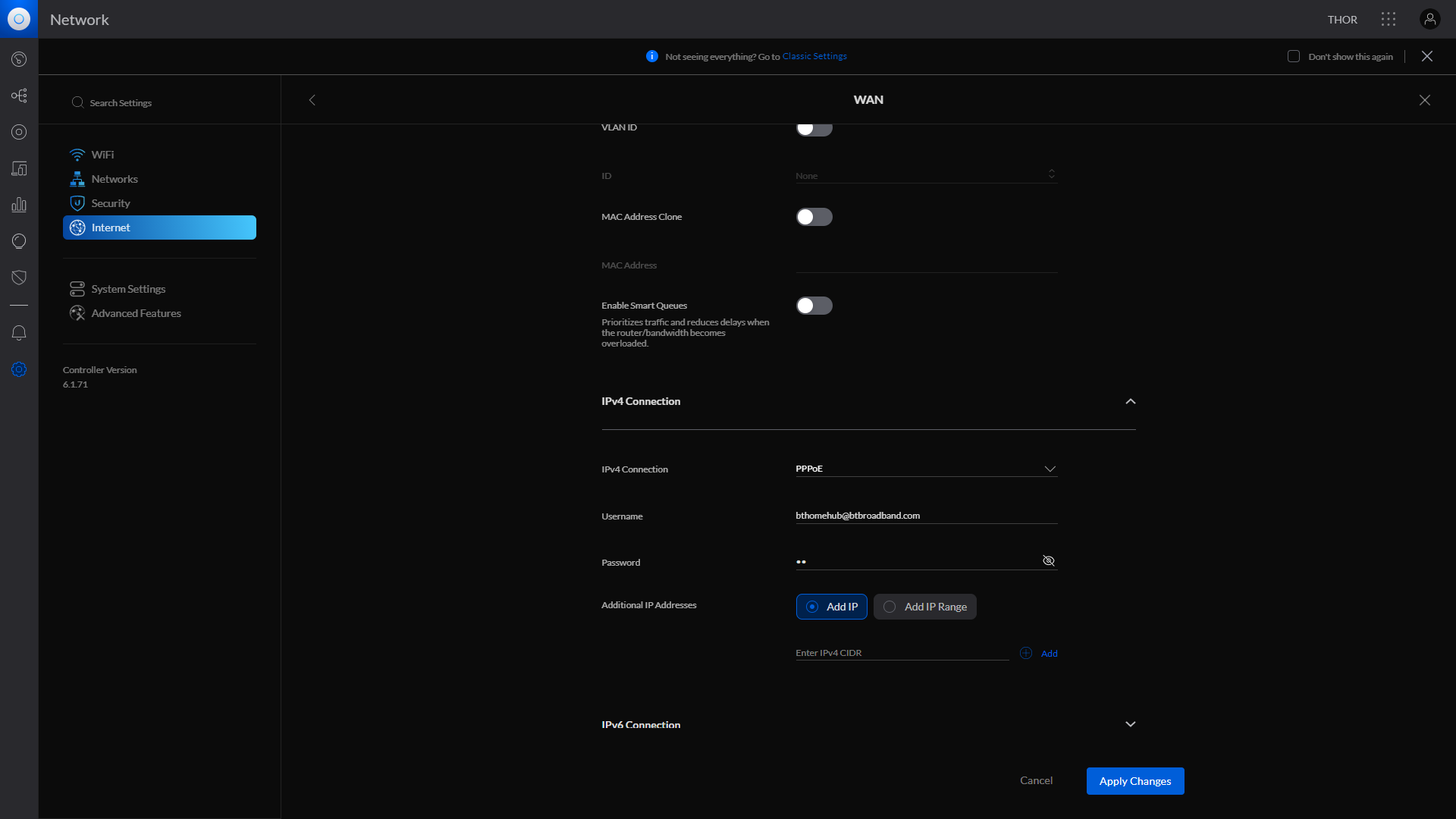 And saved the config.  I tried to access the internet on my laptop and no result, the connection was dead.
I went into the UDM Pro settings, and into the Advanced settings and restarted the device.
After a few minutes when the device came back online I was able to browse the internet and the UDM Pro had detected that connected to the BT network!
Result!  I was able to bypass using the BT supplied router and use my Ubiquiti Dream Machine Pro to supply the connection to my network!
I pay for 150Mbps down and 30Mbps up, and the UDM Pro is detecting those speeds so it's working as it should. 👍