Cloudbrew 2019 - Trip Report & Session Content
My trip report for Cloudbrew 2019 and links to my session content.
Back in June 2019 I received notification that two of my sessions had been accepted from the organisers at Cloudbrew, I was on holiday with my family in Cornwall and remember being excited by the news! I'd found out about Cloudbrew 2018 to late to submit as a speaker so I was very pleased to have spotted the call for speakers and to be accepted to speak at the 2019 event.
The sessions that were accepted were "Start your datacenter transformation journey with Azure Migrate" and "Striking the right balance while staying relevant".
Fast forward to the 12th December and I am boarding a plane to London before heading to Belgium for the event. It was my first time at Cloudbrew and first time in Belgium.
Cloudbrew
Cloudbrew is an event that has been running for 7 years now, and has grown from about 30 people to 300+! Which is amazing. From what I understand it's mostly been organic growth, from the fantastic organising team and word of mouth from the community. The event is a Microsoft centric conference, covering mostly Azure but there are other topics in amongst there and they have talks that are vendor neutral as well. The event is held in a city called Mechelen in Belgium, which is about 10mins on the train from Brussels airport.
Mechelen is a nice city, and easily walkable. I managed to do some exploring just by walking and there is very little vehicle traffic within the center, but you do have to be aware of the cyclists! lol
The event is held in Mechelen's conference center, Lamot. It's a fairly large conference center spread over six floors, it has a large auditorium and then some smaller rooms over the other floors. This year's event took advantage of all the floors, with sessions on 4 of the floors and a speakers room on the top floor, which offered great views of the city!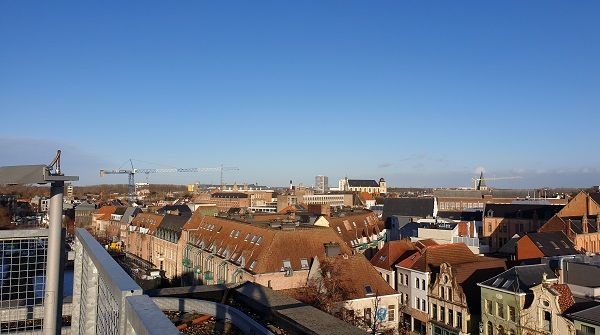 What I loved about the event was it was a big event but it had an intimate feeling, it wasn't too overwhelming and everyone was really friendly.
On the first day of the event I was "just an attendee", I got the chance to attend some sessions and hear how Azure could be used for Autonomous Driving, people's experience of Azure Active Directory Domain Services in the real world, Azure Security capabilities and real life migration stories.
On the second day of the event, I was due to deliver my two sessions. The first one was at 9am and it was my "Start your datacenter transformation journey with Azure Migrate" session. I am a bit of a fangirl in relation to Azure Migrate so I always enjoy talking about it. The product has been around since 2017 and has underwent an evolution since then, it truly is the hub for migrations now. Thank you to all that attended, my slide deck can be found on GitHub.
My second session was "Striking the right balance while staying relevant", this is a totally non technical session and it came about after having conversations with peers and fellow meetup organisers about how we all juggle our work schedules, community schedules and life schedules. I hope by sharing some of the tips and things I do that I can help others. Again, a massive thank you to everyone that attended. Also a massive thank you to Jente Paredis for the lovely bundle of Belgian chocolate he gave me, thank you! My slide deck can be found on GitHub.
Thank you
Thank you to all the speakers, attendees, organisers and sponsors for making Cloudbrew a great event. I would highly recommend the event to anyone!