CloudBerry Backup Desktop Edition Review
Cloudberry Lab is a company that was founded in 2008 by a group of IT professionals, since then they have set out to create cloud-based backup products suited to the small and mid-sized business (SMB) market.  They have several products available:
Cloudberry Backup
Cloudberry Explorer
Cloudberry Drive
Their backup product line includes solutions for backing up your desktop, server and NAS.  They also have a product that can used in conjunction with the backup software to help de-duplicate data before it is stored on your backup storage. In this review, however, we're looking specifically at CloudBerry Backup Desktop. !
Overview
The Cloudberry Backup Desktop product is a comprehensive backup product that you can utilise for many things in your home environment.  It can backup to a local device such as your NAS or a host of cloud solutions, including Amazon, Azure, HP Helion, Rackspace and Onedrive.  Below is a screenshot of the destination options I had when setting up my backup schedule.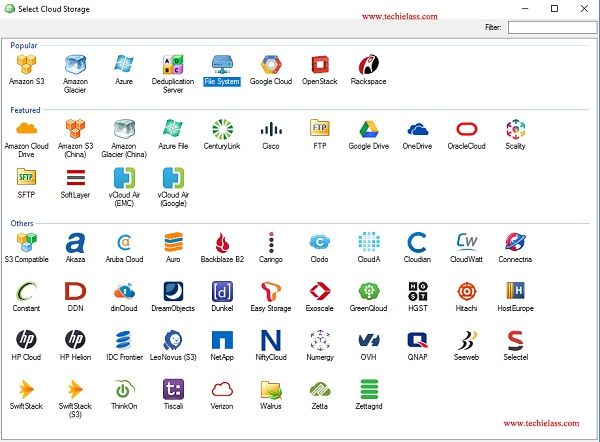 Setting up an initial backup schedule is a simple and quick process, the wizard and interface as easily navigated.  You have such features as:
selecting whether to encrypt your backup or not
having multiple file versions
selecting individuals files or folders for backup
excluding file types, or only backing up files types
backup files that have only recently been modified
excluding large files
With this granularity available to you you can customise your backup schedule to not only ensure your data is backed up but always ensuring you are making the best use of you your available backup storage space. The Desktop version of the software only supports running on Windows 7, 8 or 10.  However if you are running Ubuntu as your desktop operating system there is a CloubBerry Linux product that can be used to backup your data. There are storage limits in place within the Desktop version of the product, you  can only use the product to back up 1TB of data.  If you have more data than that you would need to opt for the Ultimate edition which has no storage limits but also has a slightly hefty price tag for the home user in my opinion.
Conclusion
Overall I have been very pleased using the CloudBerry Backup Desktop product. It's allowed me to set up individual schedules so that my normal day to day files are backed up to my cloud storage account and has allowed me to set up a schedule so that my larger data can go to my NAS with great ease and reliability.  It's definitely a product I'd be happy to recommend to friends and family and help them implement.
Further Information
You can visit the CloudBerry website at https://www.cloudberrylab.com/, where you can learn more about the products and download trials or purchase licenses.