Azure Fundamental Exams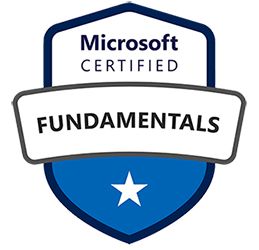 Certifications, exams are something that I've done at school and also throughout my professional career. I sat my first Microsoft exam back in 2011. That exam was the now expired Windows 7 Enterprise Desktop Administrator, ever since them I've gone to to sit exams on Windows Server, Microsoft Exchange, Microsoft Azure, Microsoft 365 and Microsoft Power Platform.
Exams and certifications are a way of demonstrating your knowledge in a specific topic and they are also great ways of helping you to stretch yourself and learn some things you've never touched before.
In terms of Azure exams, there are a few for you to take at various different levels, from fundamentals to expert.
The fundamental exams are a great place to start if you are just recently to Azure or if you are in a non technical role.
Azure Fundamentals
The Azure Fundamentals exam has been out for a while now, this exam covers off topics like Cloud computing and Azure services. You should be familiar with concepts of networking, storage, compute, application support, and application development.
Azure Data Fundamentals
The Azure Data Fundamentals is a new exam to to the line up. If you are sitting this exam you are expected to have a foundational knowledge of core data concepts and how they are implemented in terms of Microsoft Azure data services. The exam is aimed at those who are starting to work with data in the cloud.
Azure AI Fundamentals
The Azure AI Fundamentals exam is another relatively new, having been released in the summer of 2020, it too is aimed at technical and non-technical audiences. The exam covers off foundational knowledge of machine learning (ML) and artificial intelligence (AI) concepts and related Microsoft Azure services. It can be a precursor to exams such as Azure Data Scientist Associate or Azure AI Engineer Associate.
Call to Action
Have you tried these exams? Are they on your radar to sit? 😀