An Hour with April and Sarah
Join April Edwards and Sarah Lean for an hour of interactive chat.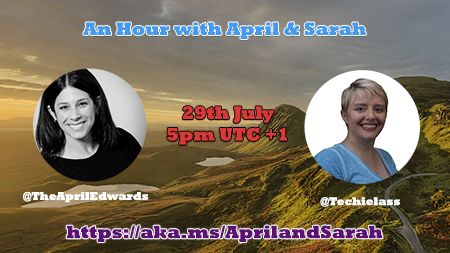 Ever wanted the chance to ask two kick ass women questions around Azure? 😉 Well you will have the chance on the 29th July!
April Edwards and myself will be doing "An Hour with April and Sarah" live stream on YouTube.
April is a Senior Software Engineer at Microsoft where she specialises in datacentre modernization and application transformation. She's helped many customers move away from legacy methods and into the brave new world of serverless and containers, where code comes first. She's previously worked in the UK for various companies, including managed service providers and brings a wealth of experience to every project she tackles. She isn't just kick ass at tech, she also kicks ass by competing in Ironman and Half Ironman triathlons in her spare time! 👍
For those not familiar with myself, I am a Cloud Advocate at Microsoft where I focus on helping customers with their journey to Azure, especially those with datacentre migration projects. I speak at user group events, conferences and help to evangelise Azure and how it can help organisations as well as sharing my real world experience. That is only part of my job though, take product feedback and working with our engineering teams to implement it is also something that I focus on. Before joining Microsoft I worked with various different organisations in support IT departments or architecting solutions. In my spare time I enjoy exploring Scotland and spending time making memories with my family.
So as you can see from our bios, April and I have a wealth of experience, so join us on the 29th July 2020 at 5pm (UK time) for an interactive chat and feel free to ask us anything! 😀
I've also created a calendar event, that you can download and put in your diary so you can remember to tune in. 😉 Download the calendar ICS file here. 📅