A Day In the Life
A day in the life of a Cloud Advocate.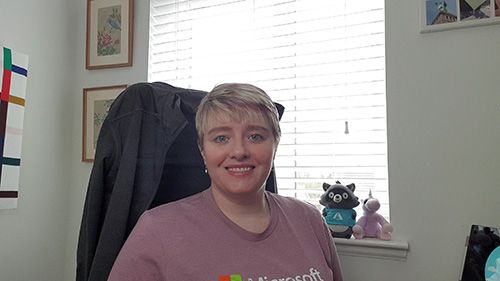 I often get asked what a Cloud Advocate at Microsoft does, so I thought it might be interesting to do a "Day in the Life" blog post where I show you what my diary looks like.
6:00 - 7:00am
I wake up at 6am, grab a shower, and grab breakfast. I'm generally ready to start work at 7:30am or 8am depending on whether there are any house hold chores to be taken care of, putting the laundry on or taking the bins out etc.
8:00 - 10:00am
This my time to do admin, check out social media, check how blogs or videos have performed the previous day. Some days I have a lot of mail, messages or admin to catch up so the time can often pass really quickly. This is also a great time to sit down and plan out what my day looks like, what my objectives look like, do I need to stick with what is planned in my diary or do I need to juggle something around and do something different as priorities have changed? At the moment I have 12 ideas on the to do list for content creation, either blog or video or in some case a combination of both. Some require prep or research before I can start creating them so I have time booked in my diary where I can focus on that and move each idea ahead a little.
10:00 - 10:30am
Today at 10am I have a catch up meeting with my colleague Thomas Maurer. We've got this slot scheduled in each week, we often share ideas for work and give each other feedback on work we've done but this week we pass the time talking about the new Surface range, we're both excited by the prospect of the refreshed hardware and new devices.
10:30am - 12 noon
I don't have any more meetings this morning so I turn notifications and alerts off on my PC and get started on editing some video footage that I created yesterday. I need to piece together, video of me, video of my screen and the audio. As well as adding in the fancy graphics to make the video look professional. 😀 Video editing is something I've really started to enjoy since I started vlogging back in August 2019, and I love learning about new techniques and testing things out.
12 noon - 13:00
The video footage is now editing and it needs to render, although my Surface Book 2 is pretty powerful it will take a while so I set that aside and fire up my second device, a Surface Pro 7 and start work on a blog post that is on my to do list.
13:00 - 14:00
Lunch time. It's important to always remember to take a break and get away from your desk, this is true when working in an office as well as working from home. The sun is out and I want to make the most of it as the forecast for next week isn't good so I grab something quick and sit outside and eat. I sometimes stick on a film, or TV series or YouTube video while on lunch, at the moment I am enjoying The Last Dance. It reminds me of when I used to play Total NBA 97 on the Playstation, I used to always pick Chicago Bulls as my team.
14:00 - 14:30
I now have a weekly catch up meeting with the other UK Cloud Advocate team. Again this is an informal catch up where we will either chat about work, or we'll chat about our weeks etc. Working in a global team means it can be hard to catch up with my team colleagues because of time zones, so being able to chat to others within the same time zone is great.
14:30 - 15:00
The next meeting I have in my diary is a catch up with a lot of others in the UK, so we have Cloud Advocates, Marketing, , the team behind the Microsoft Reactor, the startup team, the team that lead the MVP program, etc. This is a bit more formal and we use this time to chat about upcoming events, brain storm ideas, talk over what went right or wrong with previous events/campaigns and often there is some asks for help from people to get projects etc off the ground.
15:00 - 15:45
This is now time to catch up with my leader and the rest of the team. The team I am in spans seven different time zones, so it's hard for us to all catch up at once without one or two of us having to attend the meeting in our PJs or crawl out of bed really early. So we have two team meetings, same agenda, but it means we can meet at a time friendly to each of us. Each meeting is recorded and those that can't attend are encouraged to watch the recording to catch up with what others are doing and also comment on anything that was said. It sounds a little complicated but we're actually making it work quite well.
15:45 - 17:00
The team meeting runs a little over, but I don't have another meeting now in my diary so it's not an issue for me. I take the time to go grab a drink and snack. The video footage I edited and rendered earlier is finished so I kick off the upload of that to my YouTube channel. This takes a little time as I need to get the artwork and show notes written up. The video is scheduled for release in a few weeks time, but that's something ticked off my to do list.
Next on the to do list is finish off that blog post I started earlier today before signing off for the day.
17:00 - 19:00
My husband is working from home, at the kitchen table due to COVID 19 and doesn't finish until 17:30 so I take the time to finish off some house hold chores. Once he's finished and packed his work setup away we make a start on dinner.
19:00 - 22:00
This time of the evening varies a little, I either try and go for a walk or have scheduled time to catch up with friends/family over video call. My Mum and I have been regularly watching TV over video call together.
22:00 - 23:00
I usually try to get to bed between 10pm and 11pm.
Summary
So that's a day in the life of a Cloud Advocate at Microsoft in these current COVID 19 times. What does your day look like?